MEXICO CITY—Donald Trump may have dug himself into a hole in Mexico. Literally.
An aborted luxury real estate project that his company started a decade ago then quickly abandoned in Baja California after digging a few foundation holes could be coming back to haunt him in the form of a criminal complaint that was filed before Mexican prosecutors last Friday. In the citizen-led complaint, Trump is accused of fraud, unpermitted construction, and tax evasion, among other crimes.
It also includes new allegations that Trump worked on the project here without a proper work permit. In other words, Trump might have been an undocumented worker in Mexico.
"We are almost positive that Mr. Donald Trump came to do business in Mexico without a work visa," said former congressman Jaime Martínez Veloz, who filed his complaint against Trump with Mexico's Attorney General's office (PGR), which will decide whether to proceed with the case. "What we are saying is that he came as an undocumented immigrant. He came to our country to do business without getting the right permits, without paying the taxes that are required by law… he has been talking in the United States about upholding order and rule of law, but what he came to do in Mexico was to violate order and the rule of law."
Martínez Veloz, who works for Mexico's ministry of the interior, said he can find no evidence that Trump ever requested or received a work permit when he came to Mexico to promote his project, which he promised would transform the area into the next Cabo.
If it turns out Trump was paid to promote the project or do other work in Mexico without a proper work permit, he would have been in violation of the law, and essentially be the same type of undocumented worker that he has demonized during his entire campaign.
G/O Media may get a commission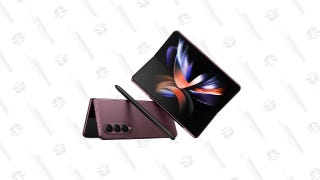 Save Up to $300
Galaxy Z Fold4
Usually when U.S. citizens enter Mexico they automatically receive a 180-day tourist visa at the port of entry. But to perform any kind of remunerated activities, all foreigners need a special work permit from Mexican immigration authorities. Martínez Veloz says he has made several requests for a copy of Trump's Mexican work visa, but no government agency has been able to provide one so far. He thinks that's because it doesn't exist.
Whether or not Trump actually did any paid work in Mexico remains unclear. Fusion reached out to the Trump Organization for comment about Trump's business dealings and immigration status in Mexico, but did not receive a response by press time.
In any event, Trump wouldn't be the first U.S. citizens to violate Mexican immigration laws. While the Mexican government has trouble keeping data on undocumented immigrants, they estimate that U.S. citizens make up the largest group of foreigners living or working illegally in the country. Illegal U.S. immigrants in Mexico include retirees who have overstayed their tourist visas, people working informally and businessmen like Trump who enter the country on tourist visas to conduct business affairs.
The penalties for violating Mexican immigration law are relatively light, and can include deportation and fines of between $50 and $400. But while Mexico has been cracking down on Central American immigrants crossing its southern border, it remains pretty lax about enforcing the law against U.S. immigrants crossing its northern border.
The rest of Martinez Veloz's criminal complaint against Trump relates to activities at the Trump Ocean Resorts Baja Mexico, a three-tower luxury condo development that was abandoned before construction started on the municipal border between Tijuana and Rosarito. The project, which started pre-construction sales in 2005, reportedly netted over $30 million in investments before pulling out of Mexico.
In 2009, when the global real estate crisis hit Latin America, the project was abandoned, leaving only a few footprints in the ground where the towers were supposed to go. According to a report in the San Diego Tribune, the money was not returned to the investors.
"[Trump] didn't invest a single cent," Martínez Veloz told reporters outside of the PGR last Friday. "He just displayed a model, had investors give their down payments and deposits in good faith, and today, where there was supposed to be a marvelous building, as he would say, there is a hole, which expresses the illegality and the fraud he committed."
After the project was abandoned, a group of investors from various countries presented a civil suit in a California court against the Trump Organization, Donald Trump and his children Ivanka and Donald Jr. for a total of $32 million. Trump's defense was that he had "lent his name" to the project, but wasn't involved in supervising it and not responsible to the investors.
The suit against Trump was settled out of court for an undisclosed amount. Daniel J. King, the investors' lawyer, told Fusion the lawsuit against Trump was "successful" despite the real estate businessman's practice of shielding himself with entities such as LLCs and corporations. But until now, no criminal proceedings related to the project were ever brought against Trump in the United States or Mexico.
Martínez Veloz's citizen complaint would be the first step if the Attorney General's Office decides the case has enough merit to proceed.
So even if Trump doesn't win the presidency on Tuesday, he could still find himself tangled up with Mexico long after his campaign ends.