It's that time of year again—the time when media outlets everywhere sift through the far reaches of the internet to bring you holiday gift guides. Look hard enough and you'll find a guide for everyone—the baking hobbyist, the marijuana enthusiast, someone who just really likes camo a lot, whoever. But every year, one group gets left out: the uterus aficionado.
Whether your special friend loves hitting the streets to fight for Planned Parenthood or simply dropping Leslie Knope truth bombs, we've got you covered. Behold, the 13 most womb-erful uterus gifts the collective artists on Etsy have to offer.
Let's start off simple: home decor.
Want to add an anatomical touch to your couch? Try this pillow, featuring a diagram of the uterus from dirtsastudio. Lining not included. ;] ($65)
For those whose tastes err on the side of "folksy grandma," check out this beautiful Parks and Rec-inspired cross stitch hoop from Bananyastand. ($32)
G/O Media may get a commission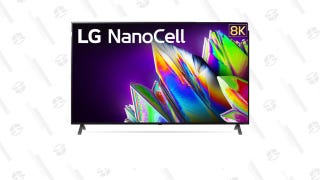 LG 75-Inch 8K TV
Want to add a woman's touch to the kitchen? Check out this female reproductive system cookie cutter from BoeTech, the tastiest way to tell the patriarchy to EAT IT. ($6.50)
If you've got a bigger budget and think you're giftee could use a bit more, um, pink in her room, you may want to consider this magnificent $375 LED light rope vulva tapestry from StudioLederach. Okay, so it's not specifically a uterus, but it's all connected, isn't it?
Now onto wearables. Etsy offers an array of uterus-themed jewelry, but this wooden uterus necklace on a silver coated brass chain from S4UNN is both gorgeous and the perfect conversation piece for that family dinner. ($22.41)
You can tell a lot about a person from his or her belt buckle, but this fantastic female reproductive system belt buckle from RhythmicMetal is guaranteed to confound at least a few people. ($45)
If the lady or gent or anything in between in your life prefers a more subtle look, this sterling silver geometric necklace from PollyLinn may be the way to go. In case you were wondering, that's not just any geometry—that's the chemical structure of estrogen! ($90+)
If you think the uterus is basically the body's pocket then you should check out the pocket on this adorable knee-length uterus skirt from hissyfitoly. ($75)
Say, but what's going on under that skirt? She'll never tell! UNLESS SHE WANTS TO. Check out this screen-printed uterus underwear from knickerocker! Perfect for repping the female anatomy on the down-low. ($30)
Is the strap of your special someone's new bag looking a little empty? Try these birth control pins from FemmeArchist. ($2.50)
Another top selection in the pin (and the Parks and Rec-inspired) department: this badass "Ovaries before brovaries" hand sign brooch from TheWhiteChihuahua. ($8)
If you've got a special friend who likes to wear their womynhood on their sleeve, the "Glamorous Uterus Headpiece Crown" from RhythmThreads will let them take their pride to the next level and wear it on their head. ($15)
And finally, for something completely different:
Yes. For the feathered medical equipment fanatic in your life, say hello to Nightmare of the Gyno from Studio223LLC. It's a bird sculpture made out of a speculum. I'm honestly not sure how to classify this, but let's call it avant-gardasil. ($145)