The midterm elections were only just on Tuesday, a fact that seems incredible given how exhausting this week has been, because now it is Friday and the 2020 election campaign cycle has apparently begun.

Last night on The Late Show With Stephen Colbert, when New York Sen. Kirsten Gillibrand was asked about whether she'll run for president in 2020, she said she would "give it a long, hard thought of consideration."

This is a stupendous amount of no-chill from a senator that just won re-election so easily on Tuesday I personally forgot she was even on the ballot. And there is even less chill to come!
Per the New York Times, which devoted an entire article to buzz:
Ms. Gillibrand's appearance on "The Late Show With Stephen Colbert" came on her first stop in a heavy media tour following the midterms. She also has appearances scheduled on "Good Morning America," "The View" and "The Daily Show," and other cable news appearances are in the works.

G/O Media may get a commission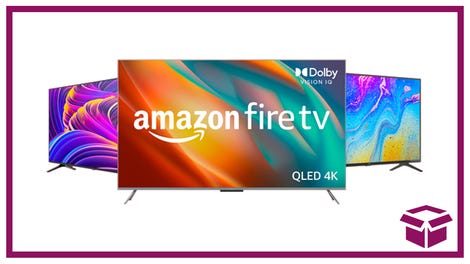 Ooh. stunning.
New Amazon Fire TVs
Ahhhhhh!
The media blitz coincides with the publication of an illustrated children's book she wrote, "Bold & Brave: Ten Heroes Who Won Women the Right to Vote." It is set to be released Nov. 13.

Ms. Gillibrand has planned a small book tour, which includes stops in Washington, D.C., Northern Virginia, San Francisco, Los Angeles, Philadelphia, Albany and New York City through mid-December.
THE CHILDREN'S BOOK IS A TROJAN HORSE.
Another group of people who seem to have absolutely no chill: staffers of Beto O'Rourke, who challenged Sen. Ted Cruz in Texas but lost on Tuesday. Per CNN:
Despite O'Rourke's comments, staffers on his Senate campaign have discussed a potential 2020 presidential run, with many of them hopeful he will ultimately enter the race, multiple people involved in those conversations said.
The "comments" CNN is referring to here are O'Rourke's own repeated denials about eyeing a run in 2020. Here's what he said when asked if he would run at a CNN town hall in October:
The answer is no. Our children are 11, they're 10, and they're 7 years old. We've told them we're going to take these almost two years out of our life to run this race, and then we're devoted and committed to being a family again.
And here's what he said again on Monday.
"I will not be a candidate for president in 2020," he told MSNBC. "That's I think as definitive as those sentences get."
Look, someday, O'Rourke is probably going to make a pretty good presidential candidate. It would be nice if he won another national election first, but hey. He's good! He's progressive and hardworking and connected with voters in a way that was pretty much unheard of for Democrats in Texas. But he has repeatedly said he doesn't want to do it in 2020 and that is fine, let the man take a break. He drove to every single county in Texas, and as someone who once drove from Austin to San Antonio once for a wedding I can definitively say that's hard as shit! Everyone chill out.
However, the award for least 2020 chill definitely goes to this guy: California Rep. Eric Swalwell, who grabbed headlines yesterday when "a source close to him" leaked to Politico that he plans to run for president in 2020. As the site reported:
"He's definitely running," the source said.

This weekend, Swalwell will be the first potential presidential candidate to visit Iowa after the midterms with a trip to meet the Asian & Latino Coalition in Des Moines and Iowa Democratic Party chairs in Dubuque. The travel to Iowa was first reported by NBC News and confirmed by POLITICO.
We haven't even gotten around to notorious party-flipper Michael Bloomberg, but let's not go there.
The best thing for the country right now would be for Iowa to close its borders to all out-of-state politicians for at least a solid month. Two months. Let us have the holidays at least. We'll pick this up in 2019.