Rolling Stone is the most esteemed music magazine in the United States. The writers interview the biggest names in music, and a band can rocket to superstardom just by landing the cover. A Rolling Stone cover is iconic.
It's also a place that is primarily dominated by men. Of the more than 1200 issues of Rolling Stone that have been printed, only around 300 covers feature women. (There is no comprehensive database of people who appear on Rolling Stone covers, but the wikipedia entry lists 263 magazine covers on which women have appeared). The way that Rolling Stone portrays women is pretty consistent, and the most recent cover of Rolling Stone looks pretty familiar.
Taylor Schilling and Laura Prepon of Netflix's Orange is the New Black appear on the cover of issue 1237, which hits newsstands this week. The two women appear dressed in jeans and shirts, but notably without bras. The wardrobe — and the pose — plays off the sexual tension the characters have on the show. Schilling's look — white tank top sans bra — is one Rolling Stone has used over and over and over and over and over again. After scrolling through dozens of Google image results, it's clear:

There are three ways women are shot for a cover of Rolling Stone: shirt with no bra, bra with no shirt, and close-up headshot.
I gathered as many covers of women on Rolling Stone as I could find (244 to be exact) added them to a Tumblr, and dissected them for data. Here's what I found:

G/O Media may get a commission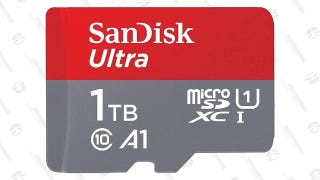 Save $75
SanDisk Ultra 1TB MicroSDXC Card
Women wearing a shirt (or slip, or dress) but obviously no bra
Women wearing a bra (or bustier), but no shirt
No shirt, no bra
Nudity!
There are two groups of pictures that are innocuous: close-ups of faces, and women who are dressed wearing both a bra and a shirt on the cover of the magazine (It should be noted, though, that of the 59 women dressed in both bras and shirts, 25 of them were on covers with male colleagues.) The close-ups are one of the few types of shot that makes no distinction between men and women. A close up of Jane Fonda's face could easily be traded for a close up of Bono's. A picture of Lorde in a band t-shirt could be any man in a band t-shirt.
In some cases, the women posed provocatively for a reason. Janet Jackson's iconic 1993 Rolling Stone cover — in which she appears topless with a man's hands on her breasts — was the full version of the album cover for Janet, which came out that year. Miley Cyrus obviously used her 2013 cover as a kind of coming-of-age celebration. There's nothing about women choosing to celebrate their sexuality on the cover of a magazine that I find incredibly offensive or irritating. Even the incredibly controversial 1999 cover of Britney Spears — she was 17 years old and photographed lying in a bra top on a bed in her childhood home — is coupled with a story about the teen pop princess shutting her manager out of her room to unbutton her shirt and get noticed.
A few notable exceptions are Taylor Swift's first two covers, and Lorde's first, all three of which involve neutral, non-sexualized poses — a man could easily have been shot the same way.
Music and music journalism have long been male-dominated fields. The biggest acts were male, most journalists were male, and most of the people who read about music were male. That's no longer true. Some of the largest acts in the world are now women, there are female music journalists, and even Rolling Stone's readership is 37% women.
Covers are meant to sell magazines, and Rolling Stone has had plenty of controversial images that don't involve women at all. John Lennon, the Red Hot Chili Peppers and the members of Blind Melon have all appeared naked on the cover. In 2006, Kanye West appeared on the cover modeled as Jesus with a crown of thorns on his head. Taylor Lautner and Justin Bieber have both appeared on the cover with their torsos highlighted.
But ladies, be warned: If you've landed the cover of Rolling Stone — as this collection proves — leave your bra at home and be ready to show some skin.
Kelsey McKinney is a culture staff writer for Fusion.