The bombings that have ripped through Austin this month, and another last night, at a FedEx facility near San Antonio in what officials say was a package addressed to Austin, have sent fear throughout the city. This fear has only been amplified by the confusion of no one really knowing why this is happening.
There are clearly a lot of questions to ask about the bombings, which authorities are still investigating at this point with little to show in the way of answers. The Associated Press, however, decided on a very bad question to ask: What kind of impact is this going to have on Austin's brand?
Initially, the headline for this bad story was "Can Austin stay weird despite the bombs that keep exploding?" which the AP has since changed to the not much better "Austin bombings put chill in city known for keeping it light."
But the central problem is pervasive through the piece (which somehow has two bylines) and which only serves to rub it in that fun things are currently not happening in Austin (emphasis mine):

Suddenly, the "Keep Austin Weird" slogan doesn't feel so fun anymore.


The beloved local motto — repeated with equal pride by college students, self-proclaimed slackers, 20-something tech hotshots and high-priced lobbyists — isn't supposed to apply to something as sinister as the string of deadly recent bombings.

The blasts have sent a deep chill through a hipster city known for warm weather, live music, barbeque and, above all, not taking itself too seriously.

Could all that make Austin, whose population and economy are booming, whose politics are liberal and whose diversity is rich more likely to be targeted? No one really knows.
G/O Media may get a commission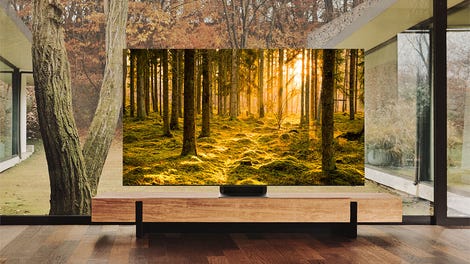 Up to 40% off
Samsung Smart TVs
Yep, right, no one knows. Why are we reading this again?
CBS's Dallas-Fort Worth affiliate aggregated the story, and sent out this now-deleted tweet that included this goofy ass picture they used:

Even within the tasteless genre of How Does This Tragedy Affect the Brand pieces, the AP decided on an extremely weird way to frame a story which has involved the deaths of two people so far. Sure, Austin might be known for being "fun" and "not taking itself too seriously," but tragedies like this can happen anywhere. Is there any place in America, or the world, where seemingly random bombing attacks are considered to gel nicely with its culture?
The AP eventually answers its own question: no, the entire culture of a city of nearly a million people has not changed because of the bombings, as "the bombings have not scared people into staying home or disrupted daily routines," but people are scared, because of course they're scared. This is a pretty scary thing!
Probably should've just thrown this take directly into the trash.