In 2009 George Delgado, a family physician and founder of a crisis pregnancy center in California, got a call from a friend in El Paso, Texas. The friend, who ran an anti-abortion ministry, had received a panicked message from a young woman. She'd just taken the first pill to induce a medical abortion, in Delgado's telling, and she immediately regretted it.

Delgado had been using the drug progesterone to treat women for fertility; why couldn't it counteract the effects of the first abortion pill? As he told the New York Times magazine last year, "within hours" the doctor had "sketched out a plan to inject the woman with 200 milligrams of progesterone" and continue the treatment until the end of the first trimester. Delgado found a doctor in El Paso who had the hormone and was willing to try it. The woman's fetus survived. Ten years later, without so much as an FDA review or even an independent medical study, states are recommending a version of Delgado's "abortion-reversal" program to all women who seek to terminate a pregnancy.
Delgado is something of a celebrity in anti-choice circles. In his San Diego clinic, visitors can look at stock photos of women in dim rooms with text overlayed: "I wish I could go back and change things," says one. Delgado's website—"Regret taking the abortion pill?"—lists a hotline to call. There are, according to the Times magazine profile of Delgado last year, nearly 20 nurses staffing his hotline, and 300 doctors willing to provide the service he invented. He is described in right-wing publications as a great and credible threat to the pro-choice movement. But as chronicled in that Times magazine story, the idea that sparked the movement for abortion reversal was a quick idea jotted down in just a few hours.
Until the rapid adoption of Delgado's theory and his Abortion Pill Reversal network, "informed consent" was mostly about providing bad information (say, about the link between breast cancer and abortion) and painting safe procedures as fringe medicine. These days it can be a recommendation for new and under-researched medical care, which brings up some quite uncomfortable questions about the women who will end up being the real test subjects here.
G/O Media may get a commission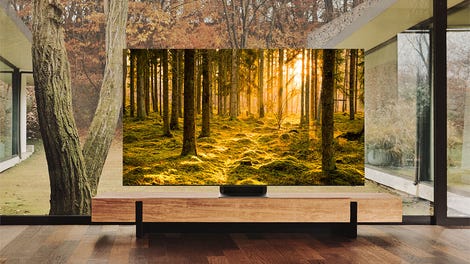 Up to 40% off
Samsung Smart TVs
Anti-abortion legislators, emboldened by the Trump administration, are getting ready to test Roe v. Wade. According to the Guttmacher Institute, 19 states adopted 63 restrictions in 2017, and 27 bills have been recently introduced that ban all or most abortions in the United States.
A sample of the sheets of paper gracing the desks of America's elected officials: Over the weekend, a law requiring doctors to report complications from an abortion to the government, signed by Indiana's governor. In Kentucky yesterday the state house passed a bill keeping doctors from performing abortions after 11 weeks. In Iowa, a "fetal heartbeat" bill is moving through the legislature that would end almost all abortions in the state.
And in Mississippi earlier this month, Governor Phil Bryant's realized a longtime dream: to finally make it illegal for doctors to perform the procedure after 15 weeks of gestation. It was considered the most restrictive abortion law in the country (and was promptly thwarted by a stay from a federal judge).
Chipping away at Roe was the plan all along. "We take a very measured, incremental approach," a spokesperson for Americans United for Life told The Hill. "We think it's important to build up a solid foundation of laws so when it's overturned, it's overturned for good."
But along with such straightforward barriers to a woman's right to choose come the more insidious tactics, long deployed by the anti-choice movement to make sure women who do seek abortions feel shame. These are more difficult than straight bans, like Mississippi's recent law, to strike down in the court. Some, like the Indiana law passed this weekend requiring doctors to report abortion complications along with a patients' age, race, education level, marital status, and number of prior abortions, seek to make providing the service a pain for administrators—and terrify women whose personal information, though anonymized, will be recorded and held by a government agency.
Others, like an additional provision in Idaho's abortion law last week, requires doctors to provide information on shady "abortion reversal" procedures—injections of the hormone progesterone after the first of two medical abortion pills are taken. This last set of provisions recommends a medical procedure that's untested and perhaps unnecessary; many audits of Delgado's treatment have pointed out that if women only take the first pill, they already have a 30 to 50 percent chance of carrying the baby to term. But since, in many cases, this procedure is recommended to vulnerable populations, the implications are more troubling. It was one of the options considered by the Office of Refugee Resettlement when it sought to force an undocumented teenager to abort last year.
The idea that you can reverse an abortion this way has been popular in the anti-abortion movement for years. Despite the fact that it was invented by a sole gynecologist, Delgado, it managed to move from a small-sample study to law in just a few years, boosted by the anti-choice narrative of regret and salvation. For a movement concerned by less invasive medical treatments like the pill, the abortion-reversal procedure represented a crucial way to update its message. But there has been no tracking or follow-up on what happens to women or their fetuses in the long term, after the injection.
In 2012, Delgado published a small case series suggesting four out of six women given progesterone after a dose of mifepristone—the first of two pills needed for a medical abortion—carried children to term. Three years later, in 2015, Arizona and Arkansas amended their mandatory abortion counseling laws to tell patients they had such an option. (Arizona later repealed the law, finding itself unable to defend the practice on scientific grounds.) Georgia, Indiana, North Carolina, and Utah are all now considering legislation with similar language, probably aided in part by America United for Life's lobbying, and its attending playbook for introducing what they call the "Abortion Pill Reversal Information Act."
Beyond that first baby girl in El Paso, and the 2012 study of a handful of women, and anecdotal evidence posted to anti-abortion advocacy websites, there have been no further studies—though Delgado, likely under pressure from the negative attention, told HuffPost this week that a bigger case series is coming out this month. Still, these largely untested injections have not been reviewed by the FDA, and are considered by other medical professionals to be the result of "conjecture" at best.
The American College of Obstericians and Gynecologists has been speaking out against it since at least 2015. "There is no science to support this," one Arizona gynecologist told the Atlantic when the first round of legislation was being passed. "ACOG does not support advising women on treatments that are not evidence-based. These women would be unknowing and unwilling guinea pigs."
If it is like gynecologists have said and there is no proven use for this treatment, and the known short-term side effects of an injection of the hormone range from bloating and fatigue to cardiovascular issues, this tells us is how easily our lawmakers will fall for a doctor selling politically convenient snake oil, at the expense of women's bodies. And it's horrifying to watch the informed consent program, once a simple disinformation campaign with fake stats and print-outs of ultrasounds, spread into a medical procedure. As Daniel Grossman, one of the medical profession's most active voices against these laws, is fond of saying: People trust doctors in lab coats, and they aren't being told they're essentially the subjects of research.
In the states passing these laws, it is rural and low-income women who will be most likely to be on the receiving end of the abortion-reversal counseling. Given our country's history of medical experiments on our most disenfranchised populations, the fact that these laws passed at all does not bode well.