Forty-three years ago, director Sydney Pollack filmed the recording of Aretha Franklin's seminal gospel album Amazing Grace with the intention of making a documentary about it. But various technical snafus, the passage of time and, eventually, Pollack's untimely death kept the movie from the screen.
Fast forward to 2015. Pollack's friends united to complete the documentary and produced a finished film, also titled Amazing Grace. It was all set to play at several major film festivals in preparation for a much-anticipated wide release.
Here's the trailer for Amazing Grace—and it only takes a second to know that "amazing" is an accurate word to describe the footage we're seeing.
All sounds great, right? Well, there's a big obstacle standing in the way of the film ever seeing the light of day, and it's Aretha Franklin herself.
G/O Media may get a commission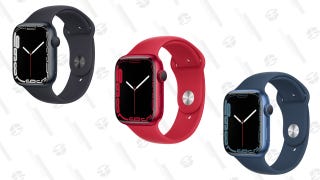 Up To $45 Off
Apple Watch Series 7
Franklin, it seems, has some big issues with the way the release of Amazing Grace is being handled. On Friday she successfully sued to block the screening of the movie at the Telluride Film Festival. Her legal complaint lays out her objections: "Allowing the film to be shown violates Ms. Franklin's contractual rights, her intellectual property rights, her rights to use and control her name and likeness, and represents an invasion of her privacy."
A judge sided with the Queen of Soul, and she celebrated the ruling on Saturday, saying, "Justice, respect and what is right prevailed and one's right to own their own self-image."
That's not the end of the fight, though. The producers of Amazing Grace say that Franklin signed an agreement way back in 1969 that basically allows them to do whatever they want with the footage. Expect to see everyone before another judge very, very soon.