My aunt sent me the new Britney Spears album before my mother could decide whether it was appropriate or not. On the cover, a nineteen-year-old Spears in a crop top and low rise pants peeked through parted door beads like the ones that hung in the doorframe to my bedroom.
The stereo in my room had speakers loud enough that I could scream along with the album and barely hear myself. It had a 5 cd disc-changer that would later hold N*Sync albums, Christina Aguilera's 2003 album Stripped and dozens of other early 2000s pop. But in the summer of 2000, I'm pretty sure the only album that played on those speakers was the reigning pop princess's sophomore album Oops!… I Did It Again.
By the time Spears performed at the 2000 VMAs in August, I had already picked "Stronger" and "Satisfaction (I Can't Get No)" as my two favorite songs. I accepted "Don't Go Knockin On My Door" only because it was between them, and then I would skip back to the beginning of "Stronger" to experience them all over again.
One day that summer, my father came into my room. As solid Gen X-er with a deep love for grunge rock and the Sex Pistols, he had a bone to pick. "You know that 'Satisfaction' isn't a Britney Spears song, right?" he asked peeking through the door beads.
G/O Media may get a commission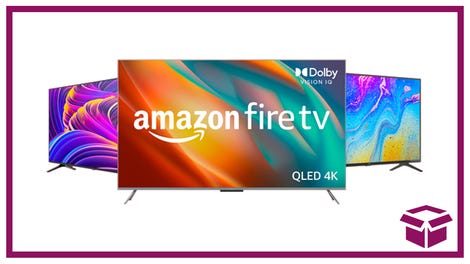 Ooh. stunning.
New Amazon Fire TVs
I didn't, and after a muttering about failing as a parent he returned from his room with a cassette tape. My 5 cd-disc-changer also had room for 2 cassette tapes, but I never used them because Britney was on cd. Into the small player, my dad loaded The Rolling Stones' 1965 Out of Our Heads album to the b-side, and scrolled past the first song. "(I Can't Get No) Satisfaction" hit number one on the Billboard charts 50 years ago this summer and stayed there for four weeks.
We sat on the bed while it played. Mick Jagger's voice crooned out of my speakers, speak-singing through the chorus I was so used to scream-singing. The production was simpler, the vocals not as clean, the tempo slower. At 3 minutes 42 seconds, the Stones' version was almost a full minute shorter than Britney's — but it felt like an eternity.
When the song ended, I looked up at my father and probably rolled my eyes. "Dad," I huffed. "You've got to admit that Britney's version is better."

The shady history of cover songs
Today we call any song that isn't an original a "cover." Britney Spears' "Satisfaction (I Can't Get No)" is a cover, and so is Zella Day's excellent cover of the White Stripes' "Seven Nation Army." If you stand up in a coffee shop and play a riveting rendition of "You Are My Sunshine," you've performed a cover of the Pine Ridge Brother's 1939 classic song.
But "cover" isn't a word that makes very much sense for what is really a tribute. Most covers aren't covering anything. Or at least, they aren't covering anything any more.
Since the beginning of time songs have been passed down, from generation to generation and from tribe to tribe. To have covers, first you need a recorded sound that can be played back. The second thing you need is a copyright. Copyrights in the music business are an incredibly muddy and complicated business. The reason that artists can cover the song of another person and still make money (because what's the point in recording a song on your album if it makes no profit?) is that copyrights existed before recorded sound.
The first copyrights for music weren't for the performance of the song but for the song itself — the lyrics and melody. These copyrights are called "mechanical" today because they were created for the mechanical player piano, which allowed people to buy music that was a notched roll inserted into the piano, so that the piano could play itself.  But even as records and 8-tracks and cassette tapes were invented, the mechanical royalty remained for songwriters (today's songwriters are trying to push back on and clarify copyrights).
What that means is that anyone can play anyone else's song legally (according to the 1909 United States Copyright act) and the money for the mechanical copyright of the song still goes to whoever wrote it.  But that still doesn't explain why we call Amy Winehouse's magnificent rendition of "Valerie" by the Zutons a "cover."
In fact, the word "cover" dates back to the invention of the radio and the widespread of racism that the United States was built on. Through the 20s and 30s there were no black radio stations. Most radio executives and stations were owned by, run by and catered to white audiences. As the American music scene changed, music made by black artists became where the interesting and talented voices were. Once black Americans created their own radio stations (the first is believed to have been WDIA in Memphis in 1948), their hits had a chance to take off among the black community — and white kids would want to hear the same songs on their stations.
Because of the racist infrastructure in place, though, white radio executives refused to simply play songs by black artists on their stations. Record executives would recruit a white band to come to the studio and record the exact same song so it could be played on white station. A great example of this is the Crew Cuts' 1995 release "Sh-Boom," which came out at almost the exact same time as the original sung by The Chords.
For much of the '50s and '60s, "covering" became an easy way for white artists to "cover" up the first release with a white radio-friendly version, which would often become the more popular version. Take Elvis Presley's "Hound Dog," for example. It's not his song.
In 1953, Willa Mae "Big Mama" Thornton recorded "Hound Dog" on Peacock Records. Big Mama's version hit number one on the R&B charts, where it stayed for 7 weeks. Since then, it's been covered almost 250 times. But the most famous version of the song was made by Elvis Presley in 1956, and it became one of the best selling singles of all time. It topped the pop chart for 11 weeks.
Some covers are infinitely more popular than their original
Some covers are exact replicas, with artists using the same vocal inflections and tuning as the original song. Search any song on YouTube plus the word "cover" and you'll get hundreds of young people holding guitars and doing just this. But a good cover takes a song and transforms it to fit the new artist, and, in many cases, presents it to an audience who never would have heard — or liked — the original.
Presley's "Hound Dog" is a good example; America had such racist divides in music when he released his version of Big Mama Thornton's song. He retooled the song: made it faster, more upbeat, and added some '50s choir boys to the backing track. He made it, well, white, and that fit his audience exactly.
But many incredibly popular songs are covers. Take 1981's "Tainted Love" by Soft Cell. It was originally a 1964 song by Gloria Jones, an American soul singer who often performed the song with a tambourine by her side.
"Time is On Our Side" was released by both Irma Thomas and the Rolling Stones in 1964, but neither version was the original version. In fact, a jazz trombonist named Kai Winding recorded the first version of the song (with fewer lyrics) the year before with his orchestra.
On and on and on this list goes. "Ray of Light" wasn't Madonna's song, it was Curtiss Maldoon's. "Emotion" wasn't Destiny's Child's song; it was a breathy 1977 Samantha Sang song. Sinead O'Connor's "Nothing Compares 2 U" was originally recorded by Prince for his side project The Family.  Natalie Imbruglia's 1997 "Torn" was really an alt-rock song by Ednaswap. Cyndi Lauper's magical 80s hit "Girls Just Wanna Have Fun" was really a 1979 song by Robert Hazard.
Cover songs are no longer a requirement to subvert systemic racism. Now they are a compliment to the original artist, a way of showing that a song maybe influenced you (or your songwriter) as an artist, even though it's not exactly in your genre, or wouldn't seem like a direct influencer. That's how we end up with great and hysterical covers — like indie singer-songwriter Jenny Owen Youngs covering Nelly's "Hot in Herre."
A great cover presents a song to a new audience in a language they can understand. Initially that was taking black songs and making them accessible to white listeners. Now it's taking rap and making it indie, or taking country and making it rock and roll. It's taking a 1965 rock song and making it an anthem for young girls in the year 2000.
Take this lyric from the original Rolling Stone's version of "Satisfaction."

"When I'm watchin' my TV
And that man comes on to tell me
How white my shirts can be
But he can't be a man 'cause he doesn't smoke"
And then this one from Spears' version 35 years later:

"When I'm watchin' my TV
and that girl comes on to tell me
how tight my skirts should be
well she can't tell me who to be
cause I've got my own identity."
Spears — er, Max Martin rather, knew his audience, and it wasn't Rolling Stones fans. That single line switch, from a critique of clean-cut Britain to a critique of the early 2000s slut-shaming Spears faced, is what made an old song relevant, and even loved by a brand new audience.
In 2011, readers of Rolling Stone voted Spears's cover the 5th worst cover of all time. But that song wasn't for them. It wasn't for fans of rock-and-roll any more than the Rolling Stones were for childhood me. And that's what makes covers so great.
For years, I laughed as my father told the story of my introduction to the Rolling Stones at dinner parties and family events as a funny story about how silly I was. With the exception of a brief hard rock phase, though, I stood by my original claim. I still stand by it.
I like Britney's version better.
Kelsey McKinney is a culture staff writer for Fusion.