Have your social media feeds for the last 24 hours been filled with posts like these?
#Miitomo is good. Yes. https://t.co/vsdUjZpKjq pic.twitter.com/f6Y4tM01GR

— Ethan Chiel (@ethanchiel) April 1, 2016
If so, you likely follow a lot of dorks who are trying out Miitomo, Nintendo's foray into the crowded social media field.
Miitomo extends Nintendo's Mii personas onto smartphone. The first thing you'll need to do when you download the app is create a Mii for yourself. This can be done by manually selecting features, but if you really want the full experience, there's an option to create your Mii from a selfie.
I tried it. Get ready for some harsh judgment of your appearance!
G/O Media may get a commission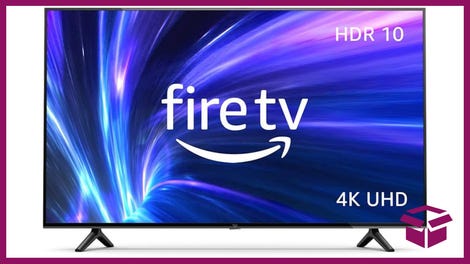 42% Off
Amazon Fire TV 50" 4K Smart TV
Once you've made your Mii, they (who is supposed to be you) will start asking you questions, as well as telling you your friends' answers to those questions.
You can "heart" and comment on your friends' answers to the litany of questions that run the gamut of mundane to silly. All of these interactions give you rewards in the form of coins, which can then be spent on new outfits for your Mii.
And that's kind of it. Much like Peach (remember Peach?), Miitomo seems like a standard social media dating mining service with the added bonus of being much more draining on a phone's battery (mine died about two hours earlier than usual yesterday).
But this does not mean Miitomo is not rife with the latent potential for creativity—essentially, this app is a meme generator.
The one area where the social network does distinguish itself is the photo booth, where you can pose your Miis and take pictures with your Miis, as well as any others you'd like to create.
The internet's been having a lot of fun with this, superimposing Miis onto photos with text in absurdist fashion, like Bitmojis made by depraved children.
And as a journalist, I'm always looking for new and exciting ways to tell stories. So I decided to give a shot at rounding up the week's news using Miitomo photos.
Welcome to the future of journalism.