When last night's Super Bowl ads weren't too busy commemorating our national fondness for dads, dogs, and dad dogs, they treated us to some surprisingly high-profile voiceovers. Kate Upton, Jeff Bridges, Liam Neeson, and Kim Kardashian were among the on-camera talent, but some of the evening's most famous spokespeople didn't even need to show their faces.
Let's start with our favorites and work our way down. Aaaaaall the way down.

Aaron Paul for Weight Watchers
While Bryan Cranston reprised Heisenberg for Esurance, his Breaking Bad costar made a much more subtle contribution to Weight Watchers' "All You Can Eat." The darkly funny ad features Jesse Pinkman's distinctly drug dealer-y narration ("Wanna get baked?") over grotesquely appealing images of donuts, burgers, and other terrible-for-you treats. Am I part of the problem if this just made me really hungry?

Muhammad Ali for Toyota Camry
Camry's "How Great I Am" spot brings together footage of Paralympic medalist Amy Purdy snowboarding, sprinting, dancing, and generally kicking ass with a rant by the greatest boxer of all time: "I done wrestled with an alligator, I done tussled with a whale, I done handcuffed lightning, thrown thunder in jail." It's awesome.

G/O Media may get a commission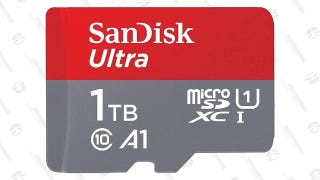 Save $70
SanDisk Ultra 1TB MicroSDXC Card
Common for Microsoft
The voiceovers heard in Microsoft's Super Bowl ads were actually taken from speeches by CEO Satya Nadella, but are read for our listening pleasure by Common. Cool.

John Krasinski for Esurance
Nothing new here: Mr. Emily Blunt has been the voice of Esurance since 2011, and he capably applied his easygoing Jim Halpert charm to cap off the company's Super Bowl spots.

Julia Roberts for Nationwide
America's Sweetheart Emeritus lent her voice to two very different Nationwide ads last night: the charming "Invisible Mindy Kaling" (you know Mindy must've been thrilled to work with the rom-com queen herself), and the horribly depressing "Make Safe Happen," perhaps better known as "Oh My God Did They Really Say That Kid Died What Were They Thinking."

Blair Underwood for Lexus
Lexus may have produced an utterly generic car commercial, but Underwood did seem adorably jazzed about landing his first Super Bowl ad.

Jon Hamm for Mercedes-Benz
Jon Hamm has enjoyed a long relationship with Mercedes, but — through no fault of his own, really — Don Draper, premium advertising incarnate, was a weird choice for this already weird commercial. Nothing says luxury and performance like a goofy CGI tortoise asking, "Who's your turtle?"

President John F. Kennedy for Carnival
Last and definitely least, Carnival repurposed audio from JFK's 1962 America's Cup speech for a confusingly melodramatic effect: "We are tied to the ocean. And when we go back to the sea, whether it is to sail or to watch — we are going back from whence we came." Yes, back from whence we came, to the midnight dessert buffet on the lido deck.
Molly Fitzpatrick is senior editor of Fusion's Pop & Culture section. Her interests include movies about movies, TV shows about TV shows, and movies about TV shows, but not so much TV shows about movies.