Sometimes it seems like TV is just wigs, wineglasses and withering looks. But really: So many wigs.
Sometimes the wigs are good. Sometimes the wigs are bad.
What makes a good wig?

A good wig looks good/natural/realistic
But! A good wig can look completely unnatural; if it's flawlessly executed and impeccably styled, it's still good
A good wig tells you a lot about the character
A good wig is flattering to the wig-wearer
And so let us gaze upon some faux-tresses.

The Best:
Julianna Marguiles' wig on The Good Wife. Margulies' actual tresses are very dark and curly; the wig is intended to make her character, Alicia Florrick, look more WASPY. It succeeds.
G/O Media may get a commission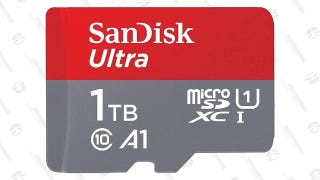 Save $75
SanDisk Ultra 1TB MicroSDXC Card
The close-cropped little wig worn by Jada Pinkett-Smith as Fish Mooney on Gotham. Short as her temper, with ends as sharp as talons, this wig is tipped in red, calling to mind the blood of her enemies. Fierce.
Every wig RuPaul wears on RuPaul's Drag Race. So many styles, every one of them a winner. Mathu Anderson, the man behind the giant blond beehives, calls himself the Wig Whisperer.
The flaxen waves on Lena Headley as Cercei Lannister in Game Of Thrones. Whether her hair is styled as long, flowing locks, twisted into ropes or heaped into a pile of braids, somehow it never looks fake and wiggy.

 The Worst:
Megan Boone's wig on The Blacklist. Artificial-looking, weird hairline, strange part, awful doll hair-vibe. Thumbs down. Luckily, for the new season, show creator Jon Bokencamp says, "The wig is dead."
The helmet of hair Viola Davis wears as Annalise Keating on How to Get Away With Murder. Oddly stiff, strangely dull-colored, this wig's best scene was when Annalise removed it. (Her new, more recent wig is definitely an upgrade.)
Critics agree: Cory Stoll's hairpiece on The Strain is terrible. He looked so much better bald on House of Cards.
On Arrow, Stephen Amell is fairly flawless (and incredibly hot; we could watch him do the salmon ladder for days) as vigilante Oliver Queen — except for those flashbacks to the Island of No Shampoo or Conditioner. Tragic.

Undecided:
These following wigs hang in limbo — let's call it Wigatory — since we can't decide if they are almost good, so bad they're good or just really awful.
The long gray wig worn by Fred Armisen as Candace, the bookstore lady on Portlandia. It's kind of weird, but so is Candace.
The blond curls donned by Jessica Lange as Elsa Mars on American Horror Story: Freak Show. So stiff! But then again, she is a German control freak.
The wispy often beribboned half-up/half-down pony on Tom Mison as Ichabod Crane on Sleepy Hollow. Charming tendrils, weird hairline.
The pale, silvery strands trailing behind Emilia Clarke as the Mother of Dragons on Game of Thrones. Sometimes Khaleesi's locks look gorgeous; sometimes they look like damaged bleached acrylic Barbie strands.

 The Final Verdict: