Labor Day celebrates the efforts and the accomplishments of the American labor movement, but it also signifies something else—no, not your dad's ding-dang barbecue sauce recipe WHICH BY THE WAY IS JUST SRIRACHA AND WHISKEY ADDED TO SOME REGULAR OLD MASTERPIECE SAUCE. It's time for the students of the world to pack up the beach towels, disarm the Super Soakers, sit up from all that binge-watching, and go back to school.
Back-to-school shopping can be exciting, but if you're a girl, it can also be an exercise in sexism! A couple years ago, Lands' End introduced science-themed shirts for girls after being called out for only featuring these tees in the boys' section of the catalog. More recently, several retailers have been criticized for selling children clothes with pretty sexist messaging. For example, last week Old Navy pulled a couple Ghostbusters-themed shirts after an outcry over a clear gender disparity: the boys' shirts read "Ghostbuster" while the girls' shirts read "Ghostbuster in Training."
It's reassuring to see companies responding to this criticism, but it's depressing when you realize how many people must have signed off on these products. So this back-to-school shopping session, let's skip all that and go straight for the best feminist and—even better—misandrist gear the internet has to offer. I guess this list is probably curated for a high school or college (or full-blown working woman)-aged lady, but hey! Can't hurt to start 'em young!
G/O Media may get a commission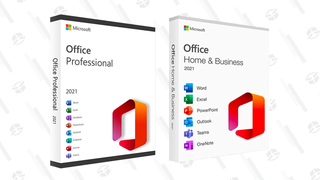 89% off
Microsoft Office Professional 2021 Lifetime License
They say the pen is mightier than the sword, but these pencils will definitely get the job done. Buuuut if you're very committed to the pen thing, then you'll love these Vagenda of Manocide pens.
Now that you've got your feminist pencil, you'll definitely need some feminist notebooks to write all your man-hating screeds and womanifestos in.
Perfect for feminism on the go.
Probably my favorite item on the list! If you want to throw some pins on that feminist backpack of yours, check out CoucouSuzette's Etsy shop.
A button for the vaporwave feminists.
Okay, so this is more of a collector's item, seeing as it's a little pricey and also miniature. So maybe it's less of a lunch box and more of a place to store tinctures for witchcraft purposes!
Back-to-school time also means upgrading your tech accessories, starting with this fantastic phone case that is large and in charge. If you're looking for something slimmer, you may be into this "Beat it, creep!" case.
You also may want to consider putting some stickers or decals on your shiny new laptop (or shiny old one)!
When you're up late working on that biology paper on men-free human reproduction, nothing will keep you going quite like a piping hot cup of male tears. Or coffee in a cute "male tears" mug. Or vintage Four Loko. Also, Etsy is chock full of these mugs, so go to town.
I couldn't find too many explicitly feminist daily planners (turns out googling "feminist organizer" hardly yields school supplies), but this Xena/Princess Leia-shipping calendar can totally get the job done while making our dreams come true.
For those of you who are college-bound, here are some dope bed sheets.
…with a pillow to match!
How can you lose your dorm keys when they're stuck to a big, beautiful, jingly vagina?!
When the line for the shower is too long, and you've got to get to that 9 o' clock class, use this fun body mist and no one will suspect you haven't bathed in days!
Sure, you may wear your feminism on your sleeve, but this is the perfect accessory to pretty much any outfit you could possibly think of. As is this Trust No Man necklace.
Nails need a little witchy perk-me-up? Throw on these Wicca nail stickers!
Perfect for smashing cars, cameras, and generally swinging around in a delightful and menacing manner.