It purports to be "the biggest survey of drug use ever conducted," and researchers cite impressive numbers: over 100,000 participants were surveyed, estimating that participants spent about a total of "7.5 years" sharing their drug experiences in the effort.
Yet the Global Drug Survey 2015, you will see, is profoundly flawed, because it only represents the drug use habits of white people.
Media outlets covering some of the survey's findings this morning, including the Guardian and Vice, glossed over this fact. And there is no readily apparent methodology section on the main landing page for the survey, which was conducted by Global Drug Survey, an independent research organization, alongside partners such as The Huffington Post and Switzerland's 20 Minuten.  Only by happening to click on one of its YouTube videos did I catch some of these eyepopping numbers: 91.5 percent of participants of the survey were white. 1.9 percent were Latino, 0.7 percent were black, and a mere 0.4 percent of respondents were South Asian. India alone comprises at least 17 percent of the entire world's population.
This coming from a survey that most probably assume lives up to its "global" title.
G/O Media may get a commission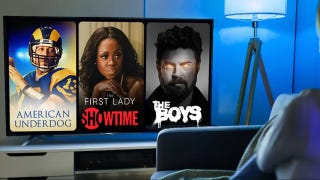 UNDER $1
99¢ Prime Video Channels
Some of those percentages can be attributed to where the respondents came from: 32.2 percent came from Germany, followed by 8.6 percent from France, 6.6 percent from the United Kingdom, and 6.2 percent from the U.S.
These are all majority white countries. But even if some European countries don't collect racial data on their citizens, France and the U.K. are decidedly multi-ethnic populations just like the U.S.
Why did they play with our hearts like this? Some of the data the survey gathered on how people shop for drugs on the dark net is fascinating, and believed to be the first of its kind. But now we have to digest it with a little asterisk.
Or a big asterisk. This isn't how people shop for drugs on the dark net. This is how white people shop for drugs on the dark net, This isn't reflective of drug use patterns over time because of the advent of the dark net. This is how white people have changed their drug usage over time because of the advent of the dark net.

How has accessing drugs through the dark net markets affected the range of drugs you have consumed?
Which drugs were bought through the dark net? In percentages.
I called a poll and survey analyst from a major non-profit, who asked not to be named because the organization doesn't publicly comment on other people's work, to help parse this frustrating survey out.
"I don't see any information about the methodology beyond those few demographic numbers, which makes me nervous about reporting anything in it," she said. "To me, I'd put this in the category of something interesting at best. We have no information about how it was conducted, so you can't really put any weight on its findings."
Adam Winstock, the founder of Global Drug Survey, responded to an email I sent him, asking for permission to use some of the images he created for this story. He gave his blessing (hence the images above). But when I emailed him back with some questions about the methodology and to comment on the whiteness of the participants, he didn't respond.
As my colleague Daniela Hernandez pointed out just over a week ago, there have been some questionable science moments in recent months. There was the guy who tricked publications into reporting on a bogus study about the positive effects of chocolate. And a study that found gay canvassers were more likely to sway people's opinions on gay marriage was retracted after irregularities surfaced, and one author failed to produce data.
The survey's findings, if you still want to check them out, are interesting. (Look! The Irish really DO drink more than everyone else!). They're fun, and perhaps a little revealing about one particular slice of human existence. Still, it's just one slice.
Daniel Rivero is a producer/reporter for Fusion who focuses on police and justice issues. He also skateboards, does a bunch of arts related things on his off time, and likes Cuban coffee.