Depending on who you ask, the circumstances that led to officer Brentley Vinson fatally shooting Keith Lamont Scott in Charlotte, NC, on Tuesday afternoon are drastically different.
According to the police, Vinson drew his weapon and shot Scott after determining that he was carrying a gun and "posed an imminent deadly threat to the officers." Scott's family, on the other hand, says that he was unarmed and merely holding a book while waiting for his son to get out of school.
Caught between these conflicting narratives have been days of intense protests throughout Charlotte, with many people calling for more information from the police about exactly what happened in the moments before Scott was killed. While Police Chief Kerr Putney has spoken to the press and doubled down on the police's story that Scott threatened officers with a gun, the Charlotte PD has kept the footage from Vinson's body camera and his cruiser's dash cam away from the public.
Thanks to House Bill 972, a new North Carolina law set to go into effect on October 1, there's a good chance that we may never see any of that footage.
HB 972 makes it so that the footage of Scott's shooting is not considered to be part of the public record or an individual officer's personnel file. Instead, the the police retain sole access to the footage and are empowered to give others access to it at their own discretion. Under HB 972, a person actually recorded by an officer's camera may request access to the footage from the police, but the police have the right to deny the request. In that case, the person may then submit a petition to a judge to compel the police to give them access.
G/O Media may get a commission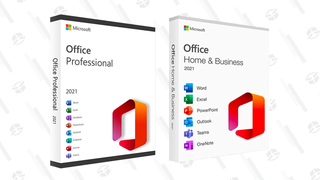 89% off
Microsoft Office Professional 2021 Lifetime License
In the case of Keith Lamont Scott, the burden falls on his family to navigate this process which is somewhat more complicated. In instances where people not recorded ask for access to the footage, the request is put up to a test of seven different conditions (like whether the footage is a matter of public interest and if the video contains highly sensitive information) in order to determine whether or not the judge can deny the petition.
On Wednesday, Chief Putney said that because the footage is currently a part of a criminal investigation, the police department didn't have any plans to release the body camera footage unless ordered to by a judge. "You shouldn't expect it to be released," he flatly told reporters.
After October 1st, Scott's family will have to make a case to a North Carolina judge as to whether and why the only objective footage of his death deserves to see the light of day.