The Catholic Archdioses of St. Louis has some problems with the Girl Scouts. In a letter sent to church leaders, Archbishop Robert J. Carlson wrote last week that he has concerns over World Association of Girls Guides and Girl Scouts' support of abortion rights, LGBT rights and access to contraception.
Carlson goes on to say that the group presenting feminist leaders Gloria Steinem and Betty Friedan as role models is contrary to Catholic values, as well as the Girl Scouts' support of humanitarian organizations like Amnesty International and OxFam (which advocate for contraceptive access in some parts of the world). In particular, the Archbishop refers to the World Association of Girl Guides and Girl Scouts (WAGGGS), the parent organization of Girl Scouts USA, advocating for reproductive rights for women.
In the letter Carlson directs pastors to either intervene with local Girl Scout troops to make sure they "help our girls grow as women of God", or to direct girls in their congregations to different organizations that espouse Catholic values:

I take all of these concerns very seriously. Therefore, I am asking each pastor that allows Girl Scout troops to meet on parish property to conduct a meeting with troop leadership to review these concerns and discuss implementing alternative options for the formation of our girls. Our primary obligation is to help our girls grow as women of God. Several alternative organizations exist, many of which have a Catholic or Christian background.
Some 4,000 girls take part in Girl Scouts meetings on church grounds, according to CBS News, and in Eastern Missouri the group has been partnering with Catholic churches for close to 100 years. Girls Scouts USA responded to the Archbishop's letter with a statement saying that they will continue working with faith-based communities, the Guardian reported:

Girl Scouts USA has not risen to the bait of the archbishop's letter. In a statement, it said with measured diplomacy that it looked forward "to extending our longstanding relationship with faith-based organizations, including the Catholic Church and Catholic communities throughout the country… We remain committed to building girls of courage, confidence and character, who make the world a better place."
G/O Media may get a commission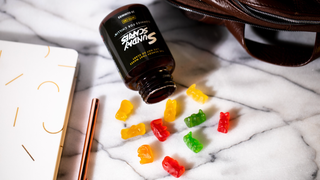 10mg CBD Gummies (22-Count)
The organization does not have an official position on abortion rights or contraception, but has been welcoming of LGBT girls and adult volunteers.