University students in China are being recruited by the Chinese government to write pro-government posts, in an extension of the country's Internet surveillance regime. Students get paid 50 Chinese cents per post, and are expected to write a minimum of three positive comments in response to negative events or opinions per day, according to the BBC.
"To take part in this Internet Civilization, one must uphold a firm/resolute conviction/belief. This resoluteness has its origins in the Party's firm/sincerest beliefs and stems from a deep love of country and nation," says a letter from the China Youth Network, posted by Xinhua, China's government-run news agency, and roughly translated by Fusion.
The letter talks about the responsibility of younger generations toward their country, and says the foreign media has distorted China's image. The Communist Youth League posted ads at universities over the last few months targeting younger students to be "Youth Internet Civilization Volunteers".
The China Digital Times said they got their hands on and translated one of these ads. The first duty listed, according to China Digital, is to "Actively spread positive energy on the Internet. Actively participate in 'Operation Sunshine Comments' initiated by the CYL Central Committee: post on the Internet with civilized language and a rational attitude and build a rational, calm, and ordered atmosphere of Internet public opinion."
It's no surprise that the Chinese government is hiring online opinion writers. It's already common knowledge that they are heavily invested in monitoring (and controlling) citizens' online activity. They have at least 2 million people closely watching what's said online for what the state calls "public opinion analysis", CNN reported in 2013.
G/O Media may get a commission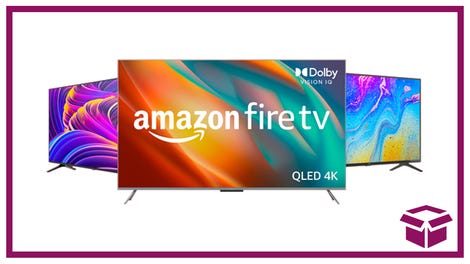 Ooh. stunning.
New Amazon Fire TVs
"I think it's part of what we could safely say is the world's largest campaign to control the total information environment in a country," said Katy Glenn Bass, Deputy Director of Free Expression Programs at PEN American Center (originally Poets, Essayists and Novelists), a freedom of expression advocacy group.
But the use of students in particular to push agendas on the Internet has been a more recent development. In the shadow of the 26th anniversary of the Tiananmen Square massacre two weeks ago, Chinese students attending universities overseas wrote an open letter calling for the massacre to be acknowledged. Bass thinks the government might be trying to sure up its support among young people partly as a result.
"I wonder if this is an attempt to ensure that they don't lose the youth by making sure they're fully engaged in party politics," she told Fusion.
The initiative is in line with Beijing's campaign to improve China's image on a range of issues including human rights globally, while cracking down as hard as ever on writers and dissidents within the country; PEN says around 44 writers and journalists are currently imprisoned in China.
Facebook and Twitter remain blocked by a government firewall, and Google searches have sometimes been restricted.
"It took repressive governments a while to realize how important the Internet was going to be as a tool for freedom of expression … it's sort of a growing savviness on the part of those regimes in terms of using the Internet for their own ends," Bass said.