The Conservative Political Action Conference is a purposefully weird gathering that pairs leading "thinkers" of the right with minor-league internet celebrities and half-drunk college Republicans. A small army of journalists takes the short ride from Washington to National Harbor, Maryland, for the annual event. The resulting tsunami can be seen as funhouse or horror show, or maybe both.
Whether an appropriate level of skepticism exists for such a gathering is the right question—and an increasingly common one in our bizarre political moment. Headliners like Donald Trump and NRA honcho Wayne LaPierre represent real power, but the CPAC lineup is also peppered with the likes of hangers-on Sebastian Gorka and Nigel Farage, and the whole cast tailors its performance for onlookers who see the late Andrew Breitbart as some sort of messianic media figure. So how should we treat the messages from these people, to say nothing of the intellectual rigor they extend to their audience? Let me point you toward a media panel—billed as a dissection of "how the far left and mainstream media got in bed together"—that helped kick off the day's program with a "fake news" compilation on Thursday morning.
The conservative journalists on stage went on to fulfill their sacred duty to watch the watchmen. Red Pill Black vlogger and Turning Point USA's Candace Owens claimed that "fake news is the reason that conservatives are winning right now, because they can't stop lying. They're pathological."
Lawrence Jones, editor in chief of Campus Reform, extolled the virtues of a site that selectively reports academic viewpoints to portray colleges as breeding grounds for violent communism.
G/O Media may get a commission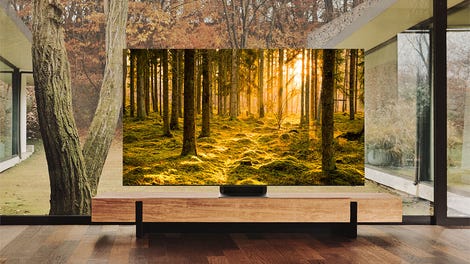 Up to 40% off
Samsung Smart TVs
Chris Loesch, who is married to NRA spokesghoul Dana Loesch and who was included on this panel for reasons unknown, free-associated about how CNN scripted questions for Wednesday night's town hall on gun control. (This is not true.) 
Moderator Larry O'Connor, associate opinion editor at The Washington Times, managed to slip in an homage to a fallen visionary: "Everything in my life comes back to Andrew Breitbart and Broadway musicals."
And Kimberley Strassel—who, as a member of the Wall Street Journal editorial board, holds one of the most prestigious jobs in American journalism—played along with the motif of a monolithic "media" as a hate object.
It would, of course, be too much to ask for these CPAC speakers to turn their scathing eyes on Fox News, the Daily Callers of the world, or a pro-Trump media that spent recent days attacking teenagers with baseless conspiracy theories. That would require getting their own house in order and making an affirmative case for their work.
There are conservatives who realize the inefficacy and even danger of this one-sided and intellectually dishonest culture of criticism. But the merry pranksters who would rather destroy the press than reform it are a far louder contingent, one that knows how to get mainstream attention. CPAC, in this sense, filled a market niche with its media panel. It was the first event of the entire circus, a fitting opener for the clown show to come.