Among the high-profile police-related deaths of the past few years, there is a common thread that almost never gets acknowledged, says a new report.
"Garner, Powell, Anderson, Gray, and Bland were not just African-Americans; they were disabled African-Americans," write authors David Perry and Lawrence Carter-Long, referring to the deaths of Eric Garner, Kajieme Powell, Tanisha Anderson, Freddie Gray and Sandra Bland.
The report was commissioned by the Ruderman Family Foundation, a nonprofit that focuses on inclusion for people with disabilities.
Up to half of officer-involved deaths between 2013 and 2015 involved someone suffering from a disability, the report finds—an estimate significantly higher than available data shows, though it's a difficult figure to quantify. Further, the report claims that the majority of "those killed in use-of-force cases that attract widespread attention" are disabled.
G/O Media may get a commission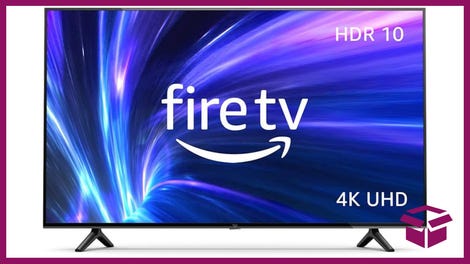 42% Off
Amazon Fire TV 50" 4K Smart TV
Those findings have big implications, the authors argue. Disabilities may influence how and whether police are held accountable for deaths. They require certain rights and accommodations. And lack of dialogue about this could be obscuring crucial connections between public health and the criminal justice system.
The federal definition of "disability" — that someone "has a physical or mental impairment that substantially limits one or more major life activities, has a record of such an impairment, or is regarded as having such an impairment" — is used in the report.
Media reporting on the intersection of mental health and policing has seen a sharp uptick since 2014, the authors found. But what is often overlooked is that some of the biggest names in the #BlackLivesMatter sphere have been otherwise disabled.
Take the death of Freddie Gray in Baltimore. A fact that barely scratched the surface of a national dialogue was that Gray suffered from lead poisoning, a condition which has disproportionately affected poor blacks in America. In 2008, Gray and his family settled a lawsuit against a former property owner for the condition, which studies have linked to severe cognitive disorders, increased aggression, and in the long run, the inability to gain full control of one's life.
According to current science, having over 5 micrograms of lead can "cripple a child's cognitive development," the Washington Post reported. Gray had beyond 7 times that level in his infancy, according to the paper.
Lead poisoning has also been linked to higher rates of incarceration. "A child who was poisoned with lead is seven times more likely to drop out of school and six times more likely to end up in the juvenile justice system," Ruth Ann Norton, the executive director of the Coalition to End Childhood Lead Poisoning, told the paper. She called lead poisoning Baltimore's "toxic legacy," affecting an unknown thousands of the city's poor, mostly black, residents.
The failure to broadly acknowledge Gray's disability in the conversation surrounding his death meant that an issue vital to public health and the way it intersects with criminal justice was ignored, argue researchers. With ongoing lead poisoning issues in Flint, Michigan.—which has been named one of the most violent cities in the U.S. by the FBI—this is all the more apparent.
Another high-profile case of disability that the report points out: the death of Eric Garner after a New York Police Department officer placed him in a chokehold.
Most reporting on his death noted Garner's weight—350 pounds—but neglected to note that he was disabled, the report writes. But Garner was disabled; so much so that he had to quit his city job. From the New York Times:

It is unclear if the chokehold contributed to the death on Thursday afternoon of Mr. Garner, who was at least 6 feet 3 inches tall and who, friends said, had several health issues: diabetes, sleep apnea, and asthma so severe that he had to quit his job as a horticulturist for the city's parks department. He wheezed when he talked and could not walk a block without resting, they said.
But rather than talk about how the system might have failed a disabled man, pundits and politicians blamed Garner's health for his own death, the researchers write.
"If he had not had asthma and a heart condition and was so obese, almost definitely he would not have died," said Rep. Peter King (R-NY), at the time. "He was a victim of himself. It's just that simple," added Bob McManus, a conservative columnist at the New York Post.
Those kinds of comments lack empathy for the disabled, and mark a missed opportunity, the report argues.
"When we leave disability out of the conversation or only consider it as an individual medical problem, we miss the ways in which disability intersects with other factors that often lead to police violence," says the report. "Conversely, when we include disability at the intersection of parallel social issues, we come to understand the issues better, and new solutions emerge."
Other lower-profile examples of disabled people dying when in contact with law enforcement are no less jarring than those mentioned above. Seattle police shot and killed deaf Native American woodcarver John Williams in 2010, after he didn't comply with an officer's verbal command to drop his carving knife and wooden board. In 2013, Robert Saylor, a man with down syndrome, died by asphyxiation at the hands of police during a movie theater confrontation. Last year, 25-year-old Lavall Hall was shot by police after his mother called police to help get him to a psychiatric facility to treat his schizophrenia and bipolar disorders. No officers were charged in any of those incidents.
A few months after Hall's tragedy, Sandra Bland, who long suffered from depression, was found dead in a Texas jail cell, sparking a national uproar. The officer who initially pulled Bland over was fired last week, and is facing perjury charges. (He is pleading not guilty.)
Official, comprehensive data about deadly encounters with police officers is nonexistent. It was only last year, with the emergence of The Guardian's "The Counted" database, and the Washington Post's own database that anyone began tracking it in earnest. (FBI director James Comey even commented late last year that "it is unacceptable" that the newspapers have better data than the federal government.)
Both newspapers attempted to track those with mental illness. The Guardian found that 26% of those killed by police had some sign of mental illness, while the Washington Post found about 24% of the same.
The Ruderman report was more inclusive in its tally. "Notice that people like Eric Garner, Freddie Gray, and Sandra Bland were all disabled, but because they weren't killed in a mental health crisis, they are not included" in the mental health statistics in either database, reads the report.
Its estimate that between one-third to one-half of all officer-involved deaths affect the disabled came from an analysis of a combination of media reports and data from select state agencies, because federal data doesn't exist. Even then, researchers acknowledge that "the truth is nobody knows" what the real number is.
It's not just a semantic difference. By law, a disability is something that all levels of government are required to accommodate, per the Americans with Disabilities Act of 1990. Last year, a potentially landmark court case appeared before the Supreme Court, asking if police departments were also required to give the disabled "reasonable accommodation" under the law, following the near-fatal shooting of a mentally ill woman in San Francisco, who locked herself in an apartment, yelling that she wanted to be alone.
The case was dismissed on a technicality, so the jury is still out on that question.
Daniel Rivero is a producer/reporter for Fusion who focuses on police and justice issues. He also skateboards, does a bunch of arts related things on his off time, and likes Cuban coffee.