While Caitlyn Jenner's Vanity Fair cover stands as a breakthrough moment in the ongoing conversation on trans politics in this country and beyond, it's just as trailblazing that Jenner donned one of the most storied forms of female accoutrements for the occasion: The bustier.
Coiled up into a distinguishable "S curve" — the serpentine contour that William Hogarth famously argued denoted liveliness and true beauty in the 1753 book Analysis of Beauty  — Jenner's newly-formed silhouette, from her heaving bosom to her rounded hips, are amplified by the boning and built-in-bra of this historical shapewear.
A derivative of the corset — an underpinning which sprung up in the 16th century Italian courts of the Medici family after Catherine Medici reportedly banned "thick waists" amongst the ladies of the court — the bustier is built to amplify the breasts and hips (the corset is tasked with diminishing the waist). Shorter in length than the corset, ending just at the waistline, the bustier is constructed from a similar restrictive boning as the corset, which helps create that famed hour-glass figure — immortalized by Marilyn Monroe and later re-imagined by Madonna.
G/O Media may get a commission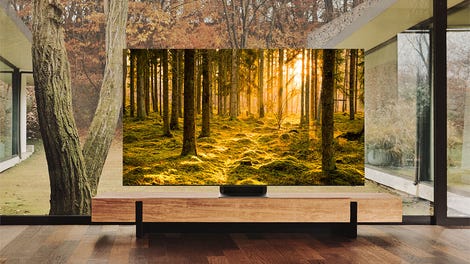 Up to 40% off
Samsung Smart TVs
Yes, pouring her unstoppable and buxom bod into a myriad of bustiers and corsets over the course of her career, Monroe came to be considered the (hardly attainable) feminine ideal for her entire generation — a sultry, constricting, and impractical ideal that the feminist movement of the '60s and' 70s would work to literally scorch. Some thirty years later, of course, Madonna would pay homage to the paradigm Monroe constructed, while simultaneously subverting it, with the cone-shaped bustier designer Jean Paul Gaultier fashioned for her 1990 "Blonde Ambition" tour.
As the singer/provocateur famously said,

"Gaultier's corsets are very sexy-looking, and I consider wearing them a form of personal expression. The practice is oppressive only if it is forced, and women today can choose to wear them or not; it is up to them. Plus, I wore those corsets as garments—on the outside—not as underwear hidden beneath my other clothes, the complete opposite of the way they were traditionally worn, in order to achieve a certain shape. I think that inversion of the concept of the corset is what turns it into a symbol of feminine power and sexual freedom."
Madonna's inversion of corsetry to serve as an avowal of female sexuality, rather than a symbol of its oppression, certainly had a lasting effect on her pop successors, as entertainers from Britney Spears to Beyoncé to Rihanna and Christina Aguilera have worked and reworked bustiers and corsets in recent years.
Employed for performances and appearances, these pop princesses use the style to vaunt the female form while often singing female empowerment anthems in tandem; Beyoncé perhaps its biggest purveyor. To be sure, if the singer's 2013 pseudonymous visual album was anything other than a viral hit, it was also a tantalizing showing of body-morphing lingerie and a testament to the performer's newfound sex positivism.
Just as Bey used these underpinnings to pursue a new understanding of her body, so does Caitlyn Jenner. As Beyoncé and FKA twigs' favorite lingerie designer, Erica M. Young of Erica M., explained to me, undergarments remain as the only real gender signifier when it comes to fashion nowadays:

"Just not that long ago, 60-70 years ago, it was looked down upon for women to wear pants, but now there is a plethora, [a] variety of items that both men and women can wear very comfortably. I think that the only real thing, the only real signifier of a male item of clothing versus a female item of clothing is really… undergarments."
According to Young, classic underwear styles will always remain feminine and masculine — or, at least, will evoke ideas of what we've come to associate with femininity and masculinity. And for Young, the most classic item is by far the bustier or corset, which she felt was the perfect choice for Jenner.

"She really showed in her interview that she's sort of a classic, traditional female — or that's what she's trying to achieve with this change. And I think throughout time, really classic imagery of classic women, like Sophia Loren or Marilyn Monroe [has endured]. So in addition to that [factor], there is a function to a bustier: to cinch in your waist and enhance your breasts. And what better choice of  garment to show off a new set of boobs?! If I were her, I would want to show those babies off!"
What emerges then is this interplay through the bustier between the classic female shape and the trans women who are actively defying cisnormativity: rewriting the female ideal to be more inclusive, while also playing into its tenets.
Just as Laverne Cox so movingly wrote in a personal essay in response to Caitlyn's Vanity Fair cover, embodying a classic ideal is both transformative and problematic for trans women, as " there are many trans folks because of genetics and/or lack of material access who will never be able to embody these standards. More importantly many trans folks don't want to embody them and we shouldn't have to to be seen as ourselves and respected as ourselves. It is important to note that these standards are also informed by race, class and ability among other intersections."
What Cox's argument suggests is that as much as her and Jenner's magazine covers signify a push back on gender conventions, they can in fact reify them due to their point of privilege and access to the mainstream. How these two women will mitigate these pitfalls has yet to be determined, but we're fascinated to see what they wear while doing so.
Marjon Carlos is a style and culture writer for Fusion who boasts a strong turtleneck game and opinions on the subjects of fashion, gender, race, pop culture, and men's footwear.