Speaking with the press on Monday, a spokesman for the Defense Department made a stunning admission: They don't really know how many American troops the department has sent to fight—and die—in wars around the world.

As The Washington Post reported:

A Pentagon spokesman, Army Col. Rob Manning, said Monday there were about 500 U.S. troops in Syria, a number far short of the 1,720 listed in the most recent quarterly report furnished by the Pentagon's Defense Manpower Data Center. In Iraq, the number is 8,892 troops — substantially higher than the 5,000 Manning said are there.

The data center's latest worldwide deployment data, accurate as of Sept. 30, was released on its website Nov. 17.
When pressed to explain why the number of soldiers the department has publicly stated are deployed in Syria and Iraq is lower than the number actually there, Manning chalked the discrepancy up to security concerns around putting an exact figure to how many troops are in a sensitive region and to troops being rotated around.
It's an issue that's been thrust into the spotlight—almost certainly against the Defense Department's will—by the deaths last month of four American troops in Niger. Their deaths came somewhat as a surprise, despite the fact that the U.S. maintains a drone base in the country, because the Defense Department's public figure on how many troops there had been pegged at just seven, a number which remained largely unchanged until this month when, according to the Post, the reported number jumped to 536. Earlier this year, the department reported in a disclosure to Congress that there were 645 soldiers deployed in Niger; after the deadly ambush there—and the added attention of President Trump feuding with the the family of one of the dead soldiers—officials said there were 800 troops there.
G/O Media may get a commission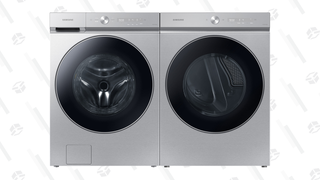 Get $500 back in credit
Last Chance: Samsung Bespoke AI Washer and Dryer Preorder
This might seem like trivial bean counting, but it's not. That the Department of Defense can't even offer a straight answer on how many American lives are at risk in a region of the world most Americans wouldn't have known our military was even active in is symptomatic of a vast, largely unchecked military power with a massive international footprint—so sweeping that apparently can't be quantified. Couple that with the government's recent history of barely counting the number of civilians being killed in ongoing U.S. drone strikes and you have a broad disregard for human life, one which can't be allowed to continue.