On Thursday, Education Secretary Betsy DeVos will meet with men's rights activists as part of a larger summit on campus sexual assault and Title IX enforcement. Incidentally, the top civil rights officer at her agency appears to share many of their preferred talking points on these issues.

In a comment criticizing the current process by which allegations of sexual assault are investigated on college campuses, Candice Jackson, deputy assistant secretary in the Office for Civil Rights, told The New York Times that it was not "fairly balanced between the accusing victim and the accused student."
She went on to say that, "Rather, the accusations—90 percent of them—fall into the category of 'we were both drunk,' 'we broke up, and six months later I found myself under a Title IX investigation because she just decided that our last sleeping together was not quite right."
The Times followed Jackson's claim with this:
Such comments infuriate advocates for victims and women, who have spent the last six years waging a concerted campaign to educate college administrators, and the public, on students' rights under the law, and how to combat what some have called "rape culture" on campus.
G/O Media may get a commission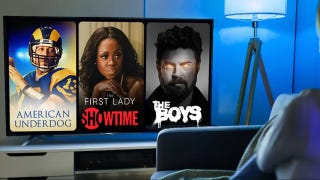 UNDER $1
99¢ Prime Video Channels
Infuriating though those comments may very well be, the piece did not contest Jackson's statement in any way or provide any information on where such a number might have come from. (It did, however, offer a quote from Fatima Goss Graves, president of the National Women's Law Center, about her fear that the Trump administration would "allow myths about rape to be perpetuated," including "the whole idea that rape is just a drunken encounter gone wrong." She may be on to something.)
When asked for a source to support Jackson's claim or where she might have come up with such a number, a media officer with the Department of Education told me, "I have no idea, ma'am." He then politely requested that I put my questions in an email in the event that the agency has an official comment on the matter.
Sexual assault on college campuses, like sexual assault everywhere, is vastly underreported. (A 2014 report from the Department of Justice estimated that 80 percent of student victims never report their assault to the police.) False accusations—which the men's rights groups DeVos will meet with on Thursday believe are rampant—are extraordinarily rare, more cultural fiction than actual threat.
For those just getting acquainted with Jackson, she was one of the people behind the stunt in which several women who accused Bill Clinton of sexual assault—consistently over many decades—attended a presidential debate as Donald Trump's guests. This was following the release of a tape in which the current president of the United States can be heard bragging about grabbing women "by the pussy"—which led to more women coming forward to accuse Trump of assault.
Those women, Jackson said in a now-private Facebook post were "fake victims." Just like the overwhelming majority of students making rape accusations, according to the top civil rights officer at the Department of Education.