International human rights groups hoped this day would never come. Political activists in the nation pushed for the government to re-examine its policy. And families feared it would send them packing from the only country they've ever known.
Photos: Haitians rush to avoid deportation from the Dominican Republic
Starting tomorrow, the government of the Dominican Republic plans to follow through on its promise to "repatriate" potentially hundreds of thousands of residents with Haitian heritage, after a controversial court ruling from 2013 retroactively stripped them of Dominican citizenship unless they had at least one parent with "Dominican blood." Legally, the law applies to any foreigner who arrived in the country after 1929. But practically, it overwhelmingly affects the descendants of people who came from the DR's struggling neighbor, Haiti.
To show that it means business, the Dominican government has prepared a dozen buses and set up processing centers on the border with Haiti, about 150 miles from Santo Domingo. In a statement, Minister of Defense General Máximo Muñoz Delgado explained that he has given orders to the Army, the Air Force, and the Navy to help with the effort to deal with the "irregular migrants."
G/O Media may get a commission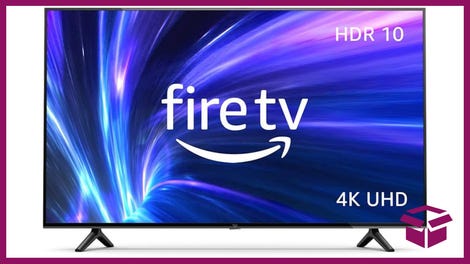 42% Off
Amazon Fire TV 50" 4K Smart TV
Across the nation, residents have been lining up at government buildings in an effort to obtain the papers that would legalize their status and prevent deportation.
After the original court order rendering hundreds of thousands of Dominican residents stateless was met with international outrage, human rights groups succeeded in getting the government to soften its stance by passing a law that would allow for people to reclaim their citizenship if records of their births were registered in the national registry. Other non-citizens who could prove their identity and by showing they arrived before October 2011 would be able to get legal residency permits.
Official numbers estimate that up to 500,000 current residents of the Dominican Republic are able to apply for the program. If they are not accepted, they will remain stateless—meaning they will not be able to hold a job, vote, attend high school, apply for college, open a bank account or legally drive. Out of all those able to apply, according to the Associated Press, only about 10,000 have already met the requirements for getting legal residency, and only about 300 have actually been granted permits. Local websites explain that the low numbers might be due to long lines and the fact that the government is asking for extensive documents from poor rural residents who might not have them.
The tensions are already heating up. On Monday, police fired tear gas at protesters in front of the Ministry of the Interior in Santo Domingo. One headline describes "chaos and confrontation" at local government offices.

And though the government says that it will not conduct large scale deportation raids after Wednesday's deadline for submitting papers, some locals have their doubts.
An aid worker who spoke to the Nation early this week under the condition of anonymity reported that local police have recently been detaining people in "limpiezas" — or "cleanings" — in Santo Domingo neighborhoods, which he says might be in preparation for mass deportations.
"The detained tend to range from intoxicated persons to suspected prostitutes, but are disproportionately Haitian or dark-skinned Dominicans with Haitian facial features," he told the Nation. "These could just be guys drinking and playing dominos or women standing on street corners. More often, though, they tend to be young men with Haitian features and darker skin."
The United States has been silent on the latest developments, though it has spoken against the policy in the past. Requests for comment from the Department of State went unanswered for this story.

Other nearby countries also have anti-Haitian policies.
Similar laws have left scores stateless and facing deportation in the Bahamas. In the nearby island nation Turks and Caicos, officials said last year they would consider using drones to track down Haitians, after changing their immigration policies to avoid granting citizenship to those born in the country. In these nations, the anti-Haitianism has more to do with classism than racism, as Haitians come from the poorest nation in the region.

But those pale in comparison to the longstanding tensions between the Dominican Republic and Haiti.
The DR is the only nation in the hemisphere that celebrated independence not from a European power, but from Haiti, which occupied it during the mid 1800s. Several wars and flare-ups have come since, many racially tinged, since Haitians are largely dark-black, while many Dominicans categorically deny their black ancestry in favor of celebrating Spanish heritage.
At a low point during the mid-1900s reign of dictator Rafael Trujillo (whose official policy was to "whiten" the country) between 20,000 to 30,000 Haitians were massacred near the nations' shared border that divides the island of Hispaniola. After Trujillo was ousted in 1961, the name of the local river, once called the Dajabon River, was changed to "Massacre River," an acknowledgement of the blood that once ran through it and an attempt to face up to the travesty.
At the high point of relations between the two countries, Dominican officials led efforts to help Haitians affected by the devastating 2010 earthquake, which killed over 100,000, and left over 1.5 million internally displaced.
But in February, a Haitian man was found lynched in the central city of Santiago, sparking protests in Haiti, and even forcing the Dominican consulates across Haiti to shutter their doors because of threats of violence.
Deadline for the now-stateless Dominican residents to get papers in order is 7 p.m. Wednesday. After that, those measly dozen buses will start looking a little more ominous.
Daniel Rivero is a producer/reporter for Fusion who focuses on police and justice issues. He also skateboards, does a bunch of arts related things on his off time, and likes Cuban coffee.