The EPA has released a letter asking the State Department to rethink its initial conclusions about how building the Keystone Pipeline would impact greenhouse gas emissions because the price of oil has dropped so much.
Those lower oil prices are making it more difficult to profitably drill for oil. So the EPA is now concerned that constructing the pipeline now would relieve some of that pressure — meaning greenhouse gas production would be greater than if the pipeline weren't built.
Early last year, State concluded that building the pipeline wouldn't really impact oil sands development either way, since prices were high enough that drilling would continue and simply find some other way of reaching the market, most likely by rail.
But oil prices have plummeted over the last couple of months, and have been under $70 since the end of November.
G/O Media may get a commission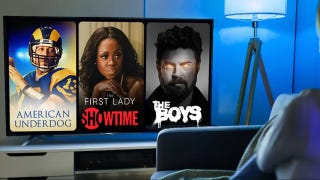 UNDER $1
99¢ Prime Video Channels
"[The State Department] found that at sustained oil prices within this range, construction of the pipeline is projected to change the economics of oil sands development and result in increased oil sands production, and the accompanying greenhouse gas emissions, over what would otherwise occur," the EPA now says.
"Given recent large declines in oil prices and the uncertainty of oil price projections, the additional low price scenario included in the [initial assessment] should be given additional weight during decision making, due to the potential implications of lower oil prices on project impacts, especially greenhouse gas emissions."
Kevin Book, managing director for research at energy analyst group CV Energy Partners, said in a note that this new assessment could create "additional headwinds" for the project.
"For example, we would not rule out an additional study period for the State Department to reexamine environmental impacts at lower crude prices, even though we are not aware of any requirement for State to do so," he wrote. "We also would not rule out a Presidential denial, even if the symbolic value of doing so runs counter to other practical actions that support the imports of Canadian crude."
But Judith Dwarkin, director of energy research at Calgary-based consultancy ITG, said constructing the Keystone still likely wouldn't affect the economics of oil sands development.
"Oil sands production has grown, and will grow, in response to market demand; continued growth depends on the market wanting more of it at a price that makes sense to both sides," she said in an email. "In this world, production growth gives rise to the need for additional [oil transport infrastructure], not the opposite."
Still, environmental groups are hailing the decision. Anthony Swift of the National Resource Defense Council writes that this could prove "the final nail in the coffin" for the project.
"EPA's assessment of Keystone XL underscores a fact that has become increasingly clear - the proposed tar sands would enable expansion of tar sands development which in turn will lead to a significant increase in greenhouse gas emissions," he said. "It is now clear that Keystone XL fails the President's climate test and should be rejected."
Although the Senate passed a bill approving the project, President Barack Obama has said he would veto the measure and reserve his authority to make the decision based on national security interests.
Rob covers business, economics and the environment for Fusion. He previously worked at Business Insider. He grew up in Chicago.