A few years back, Mark Zuckerberg became a star overnight.
The movie "The Social Network," had just come out and suddenly, every time he offered up his credit card to pay for something or called to make a restaurant reservation, people wanted to know, "Is it really you?"
The 53-year-old Indiana bankruptcy attorney was annoyed. Of course it was him! Who else would it be?
In 2011, Facebook shut down his profile on the suspicion that he was impersonating "the real Mark Zuckerberg," Facebook's boy-wonder founder and CEO. The elder Zuckerberg bought the domain IAmMarkZuckerberg.com and went on a media rampage, lamenting to the world just how hard it was to share a name with the younger, more famous Zuck.
Zuckerberg had been practicing law in Central Indiana for nearly two decades before Facebook even existed. He was a regular on the bankruptcy-law speaking circuit and on occasion was even featured on NPR.
"If you had Googled Mark Zuckerberg in 2004, you would have found me," he wrote on his site. "No one else."
G/O Media may get a commission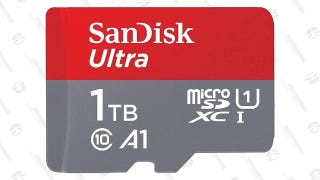 Save $75
SanDisk Ultra 1TB MicroSDXC Card
But since then, his sour grapes have turned sweeter. Being Facebook founder Mark Zuckerberg's doppelgänger comes with some serious perks.
There was the one time, a year or so ago, when he made reservations at a hip restaurant in Naples, Florida while on vacation and was treated like a Silicon Valley star. He says throngs of other diners waited in the lobby, but when he arrived, the restaurant's manager immediately whisked him away to the best table in the house and presented him with a fine bottle of complimentary champagne.
Apparently the restaurant wasn't very familiar with what Mark Zuckerberg the younger actually looks like. (Though often, upon discovering that Zuckerberg the attorney is not Zuckerberg the social network founder, people remark that the bankruptcy expert resembles an older version of the Facebook CEO.)
"Now I look at it all as a big joke," Zuckerberg said in a phone interview. "It's more entertaining than watching TV."
One time, while he was paying for something in a store, the saleswoman started screaming, overwhelmed by the brush with someone she presumed was famous. Another time, a saleswoman turned completely white upon seeing his name. He's received VIP tickets to see David Letterman, discounts on rental cars and more reservations at fully-booked restaurants than he can recall. At his central Indiana law firm, he frequently receives phone calls intended for the other Zuckerberg and sometimes even packages, most of them from Facebook fans abroad perhaps unfamiliar with American geography. Recently, he filmed a commercial for his law firm that played off of the fact that he shares a name with someone famous.
When he checked his account Tuesday, he logged in to find he'd received more than 1,200 Facebook friend requests — sometimes he even receives requests from celebrities. When I tried to friend Zuckerberg myself, I was informed, "This person has reached the friend request limit and can't accept any more." Culling the requests has become a frequent ritual.
Part of the confusion, he assumes, stems from the fact that Zuckerberg just isn't a very common American last name. In fact, before "The Social Network" came out," people would usually call him Zuckerman instead, a name that is much more common. That's an upside too. "Now people actually get my name right," he said.
On Facebook, there appears to be only these two Mark Zuckerbergs. Google searching reveals only one more among the top results, an Israeli entrepreneur originally named Rotem Guez who changed his name to Mark Zuckerberg as part of a bizarre strategy while fighting a legal battle with the social network. Zuckerberg suspects that he and the Facebook CEO may actually be distantly related — his great grandfather long ago broke off from the rest of the family after a tiff. (Facebook did not respond to a request about the two Zuckerbergs' potential relations.)
Zuckerberg's long-term girlfriend, Lois Benjoya, says she might not have started dating him if not for the shared name. Benjoya and Zuckerberg live three hours apart — her sister introduced them, after teasing her for a long time that she was going to set Benjoya up with her friend Facebook CEO Mark Zuckerberg. Perhaps it was the joke, the idea of going out with a Mark Zuckerberg that inspired her to make the three-hour drive for their first date three years ago.
"It's a fun thing," she said. "It's become a blessing."
Every time Zuckerberg pulls out his driver's license or credit card, the two shoot each other a look, curious to see how the person reading his name will react. Because she is tagged in photos with Zuckerberg, she too now gets hundreds of requests for friends on Facebook. Benjoya's kids think it's hilarious. Her son likes to brag to his friends at school that his mom is "dating Mark Zuckerberg."
The downside of the shared name is being constantly compared to the 31-year-old — and found lacking. He remembers one time, when he got off the plane at the airport, he arrived to find his limo driver waiting with a sign that said "Mark Zuckerberg," surrounded by dozens of people. When he came down the escalator and walked up to the driver, the crowd immediately dispersed, visibly let down.
There is an almost exact replica of the scene in an old ESPN commercial following an older white man who just happens to share a name with NBA legend Michael Jordan. Zuckerberg says his life is that commercial on a loop. He is still wistful for the days when he was the number one Zuckerberg to appear in a Google search, when he was known simply for being himself.
Zuckerberg said he would love to meet his namesake, and compare notes on what it's like to be Mark Zuckerberg.
"He's created something that's changed people's lives," he said. "I would love to have invented something that impacted so many people."
In a way, occasionally living in his shoes has made Zuckerberg the lawyer look up to Zuckerberg the Facebook CEO.
"I just hope when he has kids, he doesn't name them the same thing as mine," he added.