Welcome to WHAT NOW, a morning round-up of the news/fresh horrors that await you today.

One day after White House adviser Ivanka Trump condemned human rights violations in China, the Associated Press published an explosive report detailing the violence and extremely long hours workers in a Chinese factory that manufactures Trump's shoe line are forced to endure.
From the AP story:
A worker with blood dripping from his head marked a low point in the tense, grinding life at a southeastern China factory used by Ivanka Trump and other fashion brands. An angry manager had hit him with the sharp end of a high-heeled shoe.
At Ganzhou Huajian International Shoe City Co., a factory used by Trump's and other fashion brands, workers also reported overtime shifts than ran past midnight, aggressive production quotas, and verbal abuse.
Li Qiang, founder of China Labor Watch, described the conditions as some of the worst he's seen in two decades of investigating labor violations in the country.
G/O Media may get a commission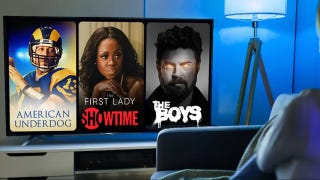 UNDER $1
99¢ Prime Video Channels
China Labor Watch investigators found that workers are paid as low as a dollar an hour and, until recently, only received as many as two days off every month.
The president of the Ivanka Trump brand, Abigail Klem, told AP that the company hasn't produced shoes in the factory since March, a claim that China Labor Watch disputed.
On Tuesday, Trump was involved in publicly downgrading China's human rights rating after an annual State Department report found the country hasn't done enough to combatting human trafficking.
On the same day the AP's story was published, China released three activists it had detained for helping to investigate the factory.
WHAT ELSE?
Remember Paul Manafort? Trump's former campaign chairman is back in the news, this time for belatedly disclosing that he earned some $17 million lobbying for a pro-Russian Ukrainian political party.
No one's afraid of President Trump anymore, least of all members of his own party. The Washington Post reported a charming anecdote where White House strategist Stephen Bannon tried to bully the conservative Freedom Caucus into submission on the healthcare bill, only to have Texas Rep. Joe Barton tell him that even his "daddy" couldn't get him to play ball.
U.S. Customs and Border Protection hasn't even signed on with any government contractors to begin construction of Trump's big beautiful wall with Mexico, but officials are still insisting that they'll start building wall prototypes near San Diego before the summer is out.