Dusty Hammond was 13 years old when his grandfather and uncle took him on his first deer hunting trip. As he later testified in a federal court, the trip nearly killed him. It also set off a chain of events that ultimately led to the ongoing armed occupation this week of a federal wildlife refuge facility in a remote corner of southeastern Oregon.
"I remember it pretty clearly. I just — I don't really talk about it," Dusty, now 27, told the court, recalling the events of 2001.
Using public court records, Fusion pieced together the story of the 139-acre blaze that led to the convictions of Dusty's uncle Steven Hammond and grandfather Dwight Hammond in 2012. On Monday, the two men were forced to turn themselves into federal authorities after another court ruled their initial sentences didn't meet mandatory minimum requirements.
The Hammonds' release from prison is among the demands of the armed group of militants now claiming control of the Malheur National Wildlife Refuge in Oregon. "We're out here because the people have been abused long enough," said Ammon Bundy, a leader of the extremist militant group, in a video posted on Facebook.
G/O Media may get a commission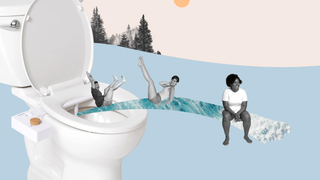 17% off
Tushy 3.0 Warm Water Spa Bidet Attachment
By law, arson on federal land carries a five-year mandatory minimum sentence. In their original sentencings, Steven was sentenced to 12 months, while his father Dwight was sentenced to three months. Prior to turning themselves in, an attorney for the duo distanced them from the armed occupiers, saying the occupiers do not speak for the family.
The Hammonds' hunting trip ended in flames. Now, in addition to fueling a fresh debate over sentencing guidelines, it has blown open an ideological clash over the federal management of vast tracts of land in the West.

🔥🔥🔥
On the morning of the trip, Dusty told a jury in 2012, he was eating half a grapefruit and some oatmeal for breakfast as his family prepared for the day's hunt. His grandfather Dwight mentioned "burning up some junipers," he recalled. A few minutes later, the group set out in two pickup trucks, guns in hand, deep into the desert-like countryside. As Dusty recalled, the group consisted of Dusty, his uncle Steven Hammond, his grandfather Dwight Hammond, his father Russell Hammond, and some friends.
A short distance away, a separate party was just wrapping up a weekend of hunting. A witness in that party later said he saw a group of deer get gunned down on public land —he could see the whole scene from the pickup truck on the way back to camp, he said.
Hunting deer was not permitted on that stretch of federal property without proper licensing. The witness said he saw a man, who he later identified as Steven Hammond, walking toward the injured deer, trying to duck and hide from the truck's line of sight.
From the side of the mountain where Dusty was walking, he could hear shots but couldn't see action. Grandfather Dwight had headed out in a different direction in his pickup truck, something Dusty remembered because he left his water bottle in that truck, and he was annoyed he was left with nothing to drink. Now, his grandfather was probably shooting at something, and Dusty was removed from the action.
"[Uncle Steven] started handing out boxes of Strike Anywhere matches and said we were going to light up the whole country on fire."
His uncle Steven called out to him, telling him to stay behind while he crossed to the other side of the hill to check on what happened.
Some time later, as the remainder of the group marched on, grandfather Dwight finally showed up with his pickup truck. Elated, Dusty finally got to drink some water. Then, something strange happened.
"[Uncle Steven] started handing out boxes of Strike Anywhere matches and said we were going to light up the whole country on fire," Dusty explained.
He was given instructions of what to do: everyone in the group would march out in different directions, lighting matches on the ground along the way. Dusty was to head out towards a highway in the distance, burning everything as he walked until he ran out of matches.
A 13-year-old, Dusty followed orders. As he walked on, he got a hang of it. At one point, he looked behind him, seeing smoke billowing up into the big sky country. It was at this point that he realized he was all alone.
"I was looking, trying to figure out where everybody else went, and I kind of got like trapped by it," he said. "It came up behind me faster than I expected it to."
The flames grew higher around him. "It was over my head, 8, 10 feet, probably," Dusty said.
Scared, Dusty ran toward the bottom of a hill, towards a creek where there was water, and where the plants were still green. "I went down there in the rocks and waited for most of it to go by," he told the court. "I thought I was going to get burned up."
After some of the fires had calmed down, his grandfather spotted him, and picked him up in his pickup truck with a few others. They drove back home in silence, where there was only a quick discussion of what had occurred during the hunt.
"[My grandfather] told me to keep my mouth shut, that nobody needed to know about the fire, and they didn't need to know anything about it," said Dusty in court.
The above testimony of Dusty, who later had a falling out with some members of his family, was crucial evidence in the federal government's case against Steven and Dwight Hammond. In the trial, father and son were convicted of two counts of arson each—one for the arson described above and one for another incident in 2006. Prosecutors maintained that the 2001 fire consumed 139 acres of public lands, and was set to destroy evidence of game violations—charges for which they were never convicted.
For the 2006 arson charges, prosecutors alleged that the duo set multiple fires on federal land they had leased for cattle grazing during a time when the Bureau of Land Management had instituted a "burn ban," in the area, citing the fact that federal firefighters were already fighting several lightning-ignited blazes in the vicinity.
For the Hammonds, that second fire marked the beginning of a long prosecution, a case that is still being strewn through the legal system nine years after the fact. During that 2006 burn, federal officials collected photos, bootprints, and other materials to use against the duo in court, in addition to evidence and testimony they had already collected from the 2001 fire.

🔥🔥🔥
When the news broke this weekend that an armed self-described militia had taken over a federal building in Oregon, it was reported that the occupation grew out of a mass protest against the Hammonds' second stint in prison. But even though it was sparked by outrage over the Hammonds, it is only the latest flare-up in a longstanding battle between the federal government and property claims in the Western part of the country.According to the most recent Congressional report on the issue, 52.9% of the acreage in Oregon is owned and managed by the federal government. In Nevada, where the Bundy family is from, that number stands at 84.9%.
"Federal land ownership is concentrated in the West," the Congressional report states. "This western concentration has contributed to a higher degree of controversy over land ownership and use in that part of the country."
The reason why goes deep into American history. It goes back to early treaties, land settlement laws and patterns, and laws requiring that states agree to surrender any claim to federal lands within their border as a prerequisite for admission to the Union, the report spells out. Clearly, from a Western, rural viewpoint, there are gripes with the federal government on these points.
So too are there valid issues with the mandatory minimum sentencing guidelines for arson, which a lower court decided were too harsh, and so decided not to follow, until federal prosecutors filed and won an appeal that ultimately sent the Hammonds back in prison to serve out the rest of their five year terms.
But considering the fact that the fires almost killed Dusty Hammond, a nephew and grandson of the defendants, it should be without saying that the actions of the Hammonds have already proven themselves to be a risk to the public safety.
The men with the guns, in this case, are proving to be a secondary threat.
Daniel Rivero is a producer/reporter for Fusion who focuses on police and justice issues. He also skateboards, does a bunch of arts related things on his off time, and likes Cuban coffee.