FBI Director Christopher Wray appeared to throw a significant wrench on Tuesday in the White House's already-bungled response to allegations that former staff secretary Rob Porter beat both his ex-wives.
In the days since Porter's former spouses publicly accused him of verbal and phyiscal abuse, the White House has claimed that it was essentially caught off-guard by the allegations, and that a background check into Porter was still ongoing when it first learned about them.
On February 8, Deputy White House Press Secretary Raj Shah insisted:
In this instance, in the case of Rob Porter, we relied on the background check investigative process. That process hadn't been completed, so we were relying on the information that we had.
G/O Media may get a commission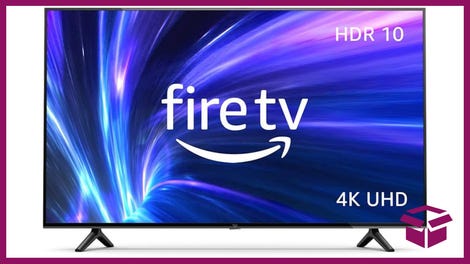 42% Off
Amazon Fire TV 50" 4K Smart TV
White House Press Secretary Sarah Huckabee Sanders doubled-down on that claim during Monday's press briefing, telling reporters:
As I know Raj addressed last week, we let the process play out. It was ongoing, hadn't been completed.
Speaking before the Senate Intelligence Committee on Tuesday, Wray was asked by Democrat Ron Wyden to clarify this timeline. Instead, Wray blew a hole right through it:
I can't get into the content of what was briefed, what I can tell you is the FBI submitted a partial report on the investigation in question in March, and then a completed background investigation in late July. Soon thereafter we received request for follow-up inquiry and we did the follow-up and provided that information in November and then we administratively closed the file in January. And then earlier this month, we received additional information and we passed that on as well.
So according to Wray, Porter's background investigation was completed in July 2017, and then—after more information was requested—reopened in November and closed two months later. Then, finally, "additional information" was passed on in early February as well.
How long has Trump's White House known about Rob Porter?
This timeline, incomplete as it may seem, appears to directly contradict the White House's claims that the investigation was "ongoing," and that the alleged abuse was a total surprise. Instead, it suggests the White House was contacted four times regarding Porter over the course of nearly a full year, with the FBI concluding its investigation not once, but twice.
Wray's testimony also added an additional wrinkle to the White House's timeline. His claim that a partial report on Porter's background check had been submitted in March of 2017 would mean that former chief of staff Reince Priebus, and not current chief of staff John Kelly, could have been the first senior White House official aware of the allegations against Porter. That means there were possibly not one, but two chiefs of staff who were aware that one of the president's top aides was accused of beating his spouses and nevertheless failed to act.
Update, 3:55 PM ET: During her daily briefing, White House Press Secretary Sarah Huckabee Sanders insisted that Wray's seemingly contradictory statement was actually fully in keeping with the convoluted timeline the Trump administration has put forward. According to Huckabee Sanders, while the FBI's investigation was opened and closed twice, the White House Office of Presidential Personnel was still evaluating Porter's security clearance based on the (again, fully closed) FBI report they'd been given.