A 23-year-old Mexican immigrant who was arrested by Immigration and Customs Enforcement agents despite being cleared to live in the U.S. under President Obama's Deferred Action for Childhood Arrivals act will be released from federal custody soon, his lawyers announced Tuesday night.
On Feb. 10, Daniel Ramirez Medina became the first DACA recipient to be arrested under President Donald Trump's immigration crackdown when ICE officers arrested him and his father in Seattle.
That means Ramirez, who's legally shielded from deportation under DACA, will have been held in a federal immigration jail for nearly seven weeks. An immigration judge granted his release Tuesday on a $15,000 bail while his case moves forward, according to a statement from his lawyers.
[Ramirez had] since filed a federal habeas corpus action, seeking to have the federal government justify his detention and asking a court to order his release. Ramirez's legal team — which includes prominent legal scholars, law firm attorneys, and nonprofit advocates — had asked the federal court to order Ramirez to be released while his case is pending. That judge declined to do so, stating that Ramirez's "avenue for seeking such release should occur in the context of his removal proceedings, which by his own admission, are not being challenged here."
G/O Media may get a commission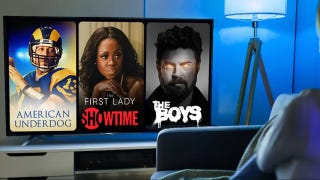 UNDER $1
99¢ Prime Video Channels
Sadly, Ramirez's ongoing ordeal is just one in a new uptick of arrests and deportations under Trump's executive orders on immigration. ICE officials have been emboldened to pick up domestic violence victims seeking protective orders in courthouses, mothers appearing for their legally mandated annual check-ins with immigration officers, and other DACA recipients.