Corrupt rich guys — they're just like us!
This morning, the U.S. Justice Department unsealed a host of indictments against and guilty pleas from FIFA soccer executives in conjunction with a multi-decade bribery scheme.
Among those pleading was Charles Blazer, a former member of FIFA's executive committee and a man long known for his lavish, epicurean tastes.
In a report last year, the New York Daily News described Blazer's incredible lifestyle, one that included "private jets, famous friends, secret island getaways, offshore bank accounts and two Trump Tower apartments with sweeping views of Central Park and the crenellations of The Plaza hotel."
Blazer evidently couldn't let all this go undocumented: For seven years, he ran a regularly updated Blogspot blog that, as we'll see, became world famous.
Here are the five best entries.
The one where he high-fives Vladimir Putin and posts pictures from Putin's vacation
G/O Media may get a commission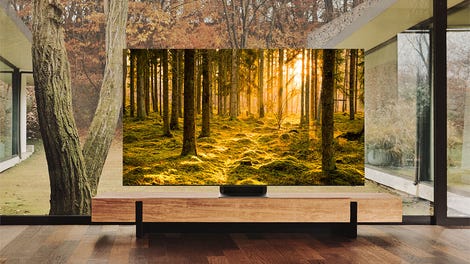 Up to 40% off
Samsung Smart TVs
In 2010, Blazer visited Russia and got to meet with then-Prime Minister Vladimir Putin. Almost immediately upon sitting down, Blazer writes, this happens: "He looked at me with a very serious gaze and said, without cracking a smile, 'You know, you look like Karl Marx!'
It's not the first time Blazer has heard this, so he simply winks and responds, "I know."
Then this happens:
"This brought an immediate response with him lifting his right arm up in the air and thrusting it forward to give me my first High-5 from a Prime Minister. I must admit that it was unique after all we have heard about this famous leader of the Russian Republic with a work history in the KGB."
Putin then asks him about his blog, and makes an amazing request:
"If I send you pictures from my trip, will you post them in your blog and then what will you do?".
Blazer agrees. The best cuts can be found here, here and here. He even changed the name of it afterward to "Travels with Chuck Blazer and his Friends."
The one where he goes to the dentist
Like any good blogger, Blazer documented his life in excruciating detail. There are lots of genuinely tender entries about children and grandchildren. But there are also ones lie this, where he interviews his dentist:
No words:
In addition to the Trump apartments and private jets, Blazer also owned a parrot named Max. He was a skilled wordsmith:
Meanwhile, as you can tell, Blazer was not a small man, and basically got around via motorized scooter. Here's the bird dancing on one of them.
The ones where he hangs with President Clinton and Prince William
This is where there is likely to be some fodder for further reports about Blazer: There are lots of entries of him hanging out with some of the most powerful people in the world, including Bill Clinton, Prince William, the Prime Minister of the Bahamas, and former New Jersey Governor Jon Corzine. While this may be expected as part of his job duty, there are already reports about how some of these connections may prove problematic: the Daily Beast reported this morning that FIFA made several donations to the Clinton Foundation.
Rob covers business, economics and the environment for Fusion. He previously worked at Business Insider. He grew up in Chicago.