Walking up to the Free Black Women's Library felt like approaching a stoop sale or block party, but much more artistic: The sidewalk was lined with tables covered in impressive wax print Adinkra cloth atop which sat piles and piles of skillfully arranged books—all the words and stories of black women. I found Octavia Butler and Toni Morrison commingling with Sapphire and Iyanla Vanzant on one table; another, all children's books. Some people chatted, others read silently, more still perused the tables for books they may have never heard of, but might want to take. Everything about the space was welcoming. More importantly, everything about the space welcomed me.
According to founder Olaronke Akinmowo, the Free Black Women's Library is, in "super super super super simple terms," a mobile library—it travels around Brooklyn and sometimes beyond. It contains about 450 books, all written by black women, spanning all genres: children's lit to erotica. The library "pops up" once a month or more, depending on things like the season and space availability, and is typically bolstered by other art projects or community events that bring the books to life, from performances, to music, to critical conversation. To "borrow" a book from the library, just bring one (must also written by a black woman) to leave in its place.
"I feel like 'library' gives people this idea that they can come and take books, and that's it—that's all that happens," Akinmowo told me. "But there's so much more going on." It's true—I witnessed just how much more firsthand.
"Lately I've been calling it a biblio-installation," Akinmowo said before the event. "Every time [the library] appears somewhere it's brand new, and every time the books are laid out, they look like art. All these gorgeous covers, all these beautiful fonts; it's very beautiful."
G/O Media may get a commission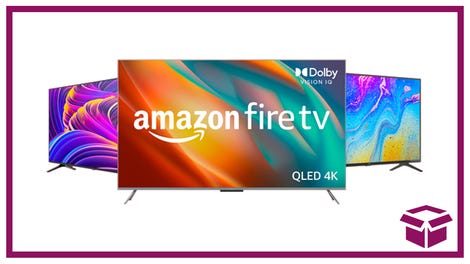 Ooh. stunning.
New Amazon Fire TVs
The aesthetic of the event I attended matched that of the space where it was held: Bed-Stuy's Chokmah Hair Lab Salon and Barber Shop. Stylish. Deliberate. Calling on something from another time and place.
"I'm very intentional about how I put the books out," Akinmowo said when asked to describe the library. "They're on display, and it feels almost like a gallery space—but it's interactive, because you can touch everything that's there, and you can move things around, and it's just constantly shifting depending on who's present."
When she began the project back in June of 2015, Akinmowo—who works as a set decorator and art director and coordinator—initially intended for the library to be carted around on a bike trailer. But thanks mostly to donations given in person and sent to a PO box, her collection quickly grew to over 400 books—way too many for her to pull along on two wheels. Although she hopes to one day have a designated RV that can serve as a permanent mobile home for the books (and will allow Akinmowo to extend the library's reach far beyond Brooklyn), for now, she gets them where they need to be thanks to the support of friends with cars or community groups she partners with.
Akinmowo views books as more than just collections of words and pages, more than just windows into new worlds, which is why she started the library—a labor of love for the working mother—to begin with.
She's always adored books and reading; as a child, she was able to find refuge from a sometimes violent home life in the public library, which offered her a safe space. Since then, she's always wanted to do something that uses books to engage community in a way that is not "overly academic or cerebral," she said.
As an adult, she became acquainted with black women authors. "Reading Audre Lorde and bell hooks and Toni Morrison just had me seeing the world differently and seeing myself differently, and it was very healing and very politicizing," she said. She felt certain that there had to be other people who felt similarly and from that belief sprang forth the idea for the library as we know it today.
"I also got inspired by Black Lives Matter, and how their work is very much grassroots, and very much about meeting people where they're at," she said. Akinmowo told me that actions inspired by Say Her Name, which focuses specifically on the numerous black female victims of police violence, helped her realize that many people are still unaware that black women also suffer at the hands of the state—that Black Lives Matter is not only about black men. "I feel like that's not a conversation that happens a lot," she said, adding that "black women need to be talked about. Not just in terms of tragedy and violence, but in general. Black women need to be talked about." The library gives Akinmowo and other people the opportunity to hear many different black women's voices and stories in many different ways.
Keeping this heterogeneity in mind, every month the library has a different theme, which can range from Afrofuturism to self-care (and anything in between). "Look at all the different things black women are about," she said. "We're not a monolith, we're not all into the same stuff, and that's totally fine." We have similar struggles and similar issues—from fibroids to getting paid less than men, Akinmowo pointed out—but we also have endless passions and interests. "Every month I'm like, 'Oh my God, what is the theme going to be for this month? What are we gonna talk about?' And then something will happen, and I'm like, 'Whoop! There it is.'" She rattled off a list of potential themes: Healthcare. Motherhood. Finances. Dating. Spirituality. Transitioning to natural hair. Even "something as simple as finding a place to live."
The theme of the event I attended, which was supported by members of Brooklyn Movement Center's (BMC) anti-street harassment group, No Disrespect (who had partnered with Akinmowo to support this particular event), was, fittingly, street harassment.
As part of their participation, No Disrespect prepared some reading material and helped moderate a discussion about experiences of street harassment. The group, which aims to transform a culture of harassment and intimidation into one of mutual respect and compassion, is anti-criminalization, and not interested in punitive measures against street harassment. "There's enough criminalization of black and brown men in these communities already," explained No Disrespect member Laurel G. They believe the answer lies in a community culture-change point of view that rejects patriarchy and traditional masculinity, which is why they partnered with Akinmowo.
"A lot of times, when it comes to street harassment, it feels like something personal," said Kat Noel, also from BMC. "[This is] an event where we can commune together, and talk about our collective experiences and the fact that there are black women writers that have written about street harassment, and written about patriarchy. [We wanted] to connect those dots, [to help] us all know that we're not alone in having these experiences, and that there's also places that offer potential solutions; [that there are] things that we can do in the moment that helps us take our power back."
"There's a lot of power in putting your story out there; when you speak it, it's true. There's something very therapeutic about it," said BMC member Ginger Skinner. And therein lies the connection between No Disrespect and the Free Black Women's Library: The black women authors that one encounters via the library are speaking their truths, telling their stories, and controlling their own narratives—things we aren't often celebrated for doing.
The themes are really meant to be conversation starters. Akinmowo told me about a conversation had during a past library that pondered whether or not it's possible to experience real, true, healthy love in a society that's patriarchal, racist, and violent. "That conversation was so deep, and so intense, and lasted for hours," she recalled. "And these are just strangers—these aren't even people who know each other!—coming together to share some of their most intimate thoughts and feelings with one another, and then, they go home." That fellowship, that feeling of entering a space that is utterly safe and unquestionably for you, well, that may be the library's greatest offering. Akinmowo recognizes that, too: "Part of the library's aim is just about black folks taking up space."
"We're gonna take up this space—with all of our books, and all of our bodies, and all of our minds, and all of our thoughts, and all of our music, all of our fashion and flyness, all of our melanin—we'll take over this space for the whole entire day, and you're just gonna have to deal." For Akinmowo and many others—myself included—at least some of the library's power rests in its ability to just let us be.
"If you're into it, that's cool," she said. "Come through, bring some good books. If you're not into it, just keep it moving. That's it. Black folks are just gonna gather, and fearlessly be like, 'We're here. And we're here to talk about the things that are relevant to us, and we're here to come up with strategies, and we're here to connect with each other, and we're here to solve problems, and we're here to honor our humanity and our creativity and our intelligence, and either get right, or get left."
If you want to get right with Akinmowo and the Free Black Women's Library, she has an October residency at Wendy's Subway in Bushwick, where the library will be open every Saturday from 12-5 PM.
Emma Bracy is a person who writes things and listens to rap music while doing crossword puzzles. Follow her on Twitter @emmabracy.