In an interview with BET, Jaden Smith and Shameik Moore both named the 2004 cult classic You Got Served as being responsible for their love of "hip hop" and "dancing and B Boy culture." The coming-of-age movie centered around friends—former B2K members Omarion, Lil' Fizz, Raz B, and J Boog—growing up in Los Angeles who compete in dance battles as a means to show off their talents and escape the bleak reality around them.
It's a fitting name drop for the co-stars of The Get Down, Netflix's new impeccably stylized, ambitious Baz Luhrmann-directed series about the end of disco and birth of hip-hop in the '70s with the streets of the Bronx as the backdrop. Both You Got Served and The Get Down, along with movies like Boyz n the Hood, Juice, The Wood and ATL, focus on something crucial: the importance of friendship between black boys.
This friendship is more than a Judd Apatow goofball "bromance." The bond is a means for surviving and escaping violence and poverty. It means having someone when you get your heart broken, or fall in trouble. No judgments, but that doesn't mean you'll hold your tongue. The Get Down doesn't get everything right, but it captures this perfectly through the friendship of its main characters Shaolin, Zeke, Boo Boo and Ra Ra. At a time when we seem to have to prove that the lives of black and brown boys matter, here is a show based in a world of blackness where you can do nothing but root for these boys to win.
Like every Luhrmann film (The Great Gatsby, Moulin Rouge, Romeo + Juliet), The Get Down is essentially a story about fighting for love. There is the love that Zeke (Justice Smith) has for Mylene (Herizen F. Guardiola) that eventually becomes a mutual thing. There is the love for the Bronx, the groove, and the turntable. And there is the love that grows within the Fantastic Four Plus One.
G/O Media may get a commission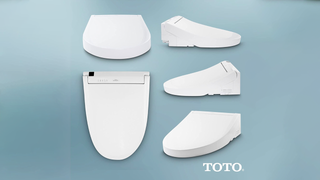 44% off
Toto Washlet Electronic Bidet Toilet Seat
When we are first introduced to Zeke Figuero, Shaolin Fantastic, and the Kipling brothers Ra Ra, Boo Boo, and Dizzee, they haven't yet formed their superhero hip-hop quintet. Zeke is trying to win the heart of his childhood crush Mylene. Ra Ra, Boo Boo, and Dizzee are learning life lessons from their cool, hippie parents while chasing the streets to find the latest graffiti scribe from their hero, the badass Shaolin Fantastic, who jumps off buildings and tumbles over cars with ease. To them, the kung-fu loving, red Puma wearing neighborhood coolboy is more of a myth than a real person. But in actuality, Shaolin leads a lonely life as as an errand boy for club owner and drug dealer Fat Annie who has big dreams of becoming a DJ like his hero Grandmaster Flash. That is, until they cross paths.
"Have you found a wordsmith?" Grandmaster Flash asks.
"Not yet," Shaolin Fantastic says.
"Then you must trust and choose wisely. You are well-liked but always alone. The journey requires a wordsmith."
In order to master the skills of cutting and mixing records, you need someone who can not only rhyme over your beats and help hone your craft, but also always have your back. For Shaolin, this is the sensitive soul and talented poet Zeke. It wasn't love at first sight, but from the moment Shaolin heard Zeke's naturally poetic speech and willingness to fight for what he wanted (in this case a rare record and entrance into nightclub Les Inferno), he knew he was the one. It's after the night that Shaolin introduces them to the underground world of hip hop at The Get Down party that the guys become The Fantastic Four Plus One. They're more than just friends. They're brothers, their own little gang of superheroes saving each other from trouble.
For The Fantastic Four Plus One, being sensitive (save for Shaolin's consistent hate for Zeke's love for Mylene) is a strength, not a weakness. Shaolin isn't afraid to cry over his record collection and turntables being burned in the fire. Zeke is a quick-witted MC because of his ability to get in tune with his emotions. Dizzee gets Mylene's disco record played by a lauded DJ by going outside of his comfort zone to a drag party where he also explores his sexuality. Boo Boo fails at trying get the same rap flow as everyone else, and instead creates his own slower cadence.
The Get Down has the same flaws of most of Luhrmann's projects. From the bad guys to the dialogue, it's not believable. There are too many plot details that don't get enough focus and instead get fuddled into the mix. It's often corny, specifically the opening rap monologues from Nas. But Luhrmann's flair for magical realism helps to tell the story in a visually brilliant way. The Get Down looks like a mashup of a comic book coming to life and a Blaxploitation film. It shows the Bronx from The Fantastic Four Plus One's perspective—and to them it's the magical place full of possibilities that they call home. Their borough is full of life: vibrant, colorful and plastered with graffiti from the artist that all the neighborhood kids look up to.
Supervising producer and author Nelson George told Salon: "[There's the idea that] 'Oh, The Get Down must be lying because it's colorful. Oh, they seem to be having a good time at this party. What kind of fantasy is this?' No. In fact, it was very joyful because you knew you had to struggle. You were fighting against the city, you were fighting against the police, you were fighting all these different external things, but internally, there was a sense of community. It was very strong."
But can a black or brown boy with the odds stacked against him really, truly feel invincible? In the fantastical world of The Fantastic Four Plus One invincibility has its limits—the friends have the fearlessness to jump over the top of buildings, but the awareness to know that they need to get rid of a dead body even if they didn't commit a crime because as black boys they'll be blamed for it. Yet together they become stronger; they get their own fairy tale story.
In one scene, Zeke says: "If one man falls, we all fall…We're brothers now, and we got to get ours. Do or die." And that's the way The Get Down brothers got down.
Tahirah Hairston is a style writer from Detroit who likes Susan Miller, Rihanna's friend's Instagram accounts, ramen and ugly-but cute shoes.