To absolutely no one's surprise, Donald Trump's strategy for supporting his party in the 2018 midterms is to just wing it, baby! According to an article by The New York Times on Monday, the president has basically no coordinated plan for hitting the campaign trail this summer, in part because there has been basically no coordinated plan for anything under this administration. This is all extremely alarming to the Republican Party, which whole-heartedly deserves to be in the mess that it's in.

Perhaps Trump's chief delusion about the upcoming elections is that he reportedly refuses to even hear talk about his party suffering losses come November, repeatedly telling GOP leaders at a dinner: "That's not going to happen." According to the Times, advisers are also up in arms because Trump's 2020 campaign manager, Brad Parscale, is not helping matters any by feeding the president a steady diet of exactly what he wants to hear:
Mr. Parscale has rankled Trump advisers by giving the president a perpetually rosy assessment of his poll numbers. He often tells Mr. Trump his numbers have "never been higher," according to two advisers.
Another point of disagreement about the party's 2018 strategy is that Paul Ryan and the Congressional Leadership Fund want the party to focus on the "benefits" of the tax bill (in a meeting earlier this month with donors, Ryan's presentation included a slide about how the "middle-class must believe we cut their taxes," which is a fun use of "believe" instead of "know") But the tax bill is a topic Trump himself has said he finds "boring," and the president is "grousing about what he sees as uninspired messaging by congressional leaders like Mr. Ryan," the newspaper reported.
Trump also reportedly holds a grudge against the party for pushing him to back losing Republican candidates like Roy Moore and Rick Saccone:
Mr. Trump, for his part, has complained to associates about having been deployed to campaign for relatively weak Republicans like Roy S. Moore, who lost last year's Senate race in Alabama, and Rick Saccone, who lost the special House election in Pennsylvania last month.

He has taken the losses personally, particularly in Alabama, because the vacancy there was a result of his decision to make Jeff Sessions attorney general, an appointment he has since regretted. Mr. Trump has subsequently blamed others in the party for thrusting him into episodes of humiliating defeat.
G/O Media may get a commission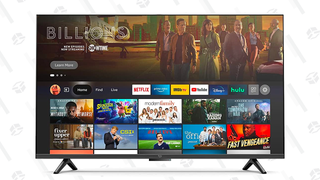 22% off
Amazon Fire TV - 50" Omni Series 4K - Early Access Deal
It's honestly hard to tell who is fucking up more (after all, the GOP tax bill is still historically unpopular.) But the fact that Trump's tantrums are ruining any sort of unified front for Republicans in the 2018 midterms only warms my cold, cold heart.