Democratic socialist congressional candidate Alexandria Ocasio-Cortez has quickly become the right wing's boogyman du jour since her primary win in June, with Republicans and their ilk going after her with racist smears and hysterical fear-mongering. Now comes an insane allegation that she essentially supports Nazis.

Well, one Nazi, to be specific: Jakiw Palij, a 95-year-old former Nazi labor camp guard who was arrested and deported back to Germany on Monday, after living in the U.S. for decades.
First, it should go without saying that kicking an actual, honest-to-god Nazi out of the country is an unambiguously good thing. Fuck him.
G/O Media may get a commission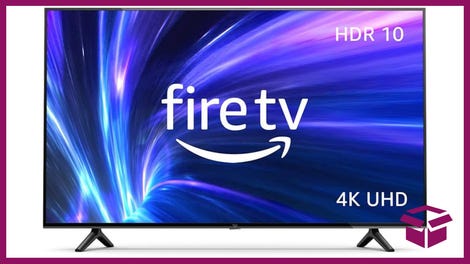 42% Off
Amazon Fire TV 50" 4K Smart TV
But the ghouls at the Republican National Committee—perhaps concerned about losing another potential Trump voter—simply couldn't let the occasion of Palij's deportation pass without taking a swing at their new public enemy number one.
"ICE deports Nazi from Ocasio-Cortez's backyard," the RNC trumpeted in a blog post that was emailed to supporters on Tuesday morning.
Via the RNC:
U.S. Immigration and Customs Enforcement (ICE) agents removed the Nazi from his home in Queens, which is located in the New York congressional district that Democratic socialist Alexandria Ocasio-Cortez is running to represent.

There's arguably no issue that's drawn more attention to Ocasio-Cortez than her call to abolish ICE. Earlier this month, she fundraised with a group that referred to ICE as "the Gestapo" and encourages the harassment of ICE employees.
When asked for comment, Ocasio-Cortez's campaign directed Splinter to her tweet made in response to a similar critique from Fox News contributor Katie Pavlich.
The RNC's insinuation seems pretty clear: If ICE was abolished, Ocasio-Cortez—who has the gall to say "healthcare is good, and people should have basic human rights like education"—would be just fine with harboring war criminals. This, of course, is completely insane—Ocasio-Cortez has spoken out about the horrific, and well documented abuses committed by ICE against undocumented immigrants, asylum-seekers, and other vulnerable communities (which are, incidentally, the sort of things actual Nazis used to do themselves). One deported war criminal does not a good agency make.

Not that deliberate obfuscation, misrepresentation, and shameless mud-slinging has ever stopped the RNC before. If anything, this whole thing stinks of a desperate "look over there!" attempt by Republicans to distract from the oodles of homegrown Nazis running for office under their own banner across the country.