On Thursday, Vice President Joe Biden and Attorney General Loretta Lynch announced that the Department of Justice is pledging $41 million to test backlogged rape kits across the U.S. The New York County District Attorney is nearly matching the funds, with a contribution of $38 million. Altogether, 43 jurisdictions in 27 states will receive $79 million.
In a statement, Biden spoke about the importance of finally testing backlogged kits. "Studies show we solve up to 50% of previously unsolved rapes when these kits are tested," he said, adding:

When we solve these cases, we get rapists off the streets. For most survivors, seeing their rapists brought to justice, and knowing that they will not return, brings peace of mind and a sense of closure. The grants we're announcing today to reduce the national rape kit backlog will bring that sense of closure and safety to victims while improving community safety.
G/O Media may get a commission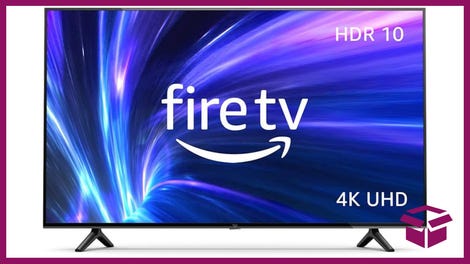 42% Off
Amazon Fire TV 50" 4K Smart TV
Lynch added that the money should send a message to rape victims: "For anyone who has felt isolated and afraid, left out and left behind as a result of a sexual crime, our message is clear: we will not forget you.  We will not abandon you. You are not alone," she said. Manhattan District Attorney Cy Vance told NBC News that, "We have finally come together to solve one of our law enforcement community's biggest embarrassments which is having treated sexual victims, particularly women, not as seriously as we have treated other kinds of crimes and victims."
But is $79 million enough of a solution?
Backlogged rape kits pose a huge problem for the Justice system. Back in July, a USA Today investigation of more than 1,000 police agencies found at least 70,000 untested rape kits. There are roughly 18,000 police departments throughout the nation, so the 70,000 untested kits likely represent just a small fraction of the number of backlogged rape kits in America. USA Today estimates the true number of untested kits is in the hundreds of thousands.
One reason the kits remain untouched for so long is, indeed, money. It generally costs somewhere between $1,000 and $1,500  to test a rape kit—though the DA's office said that kits tested through the initiative will cost less than $675 each. At a rate of $675 per kit, the $79 billion would be able to clear about 117,000 kits—nothing to sneeze at, but likely still far from a total solution. And this is not the first time money has been poured into the cause. Per USA Today, Congress has designated roughly $1.2 billion over the past decade to solve the problem, and failed.
But, as The Cut pointed out in July, earlier funding hasn't always been earmarked specifically towards testing rape kits—and the money that has was often used in different capacities. From The Cut:

According to Scott Berkowitz, the president of the Rape, Abuse, and Incest National Network, the issue isn't a lack of funding, but rather that not enough of the funds are being put toward casework—and ensuring that labs have the capacity to test rape kits.
And actor Mariska Hargitay's Joyful Heart Foundation, an advocacy group working to eliminate the backlog, sees today's news as a triumph. Hargitay issued a statement, saying:

It's historic for jurisdictions who want to do the right thing, who now have the resources they need to test sexual assault kits and to investigate, arrest and prosecute dangerous criminals to get them off our streets. It's historic for police departments, who want to engage survivors with care, expertise and compassion. And, perhaps most importantly, it's historic for sexual assault survivors across this country.
It's about time.
Danielle Wiener-Bronner is a news reporter.