As a wave of sighs, boos, hisses, and expletives flooded various homes and social media platforms in the wake of Beyoncé losing every major category at this year's Grammy Awards, a familiar sentiment surfaced just as swiftly: "What did you expect?"
The rhetorical question is rooted in the history of the most celebrated music awards show we have. It is a history that has long highlighted the fact that the Recording Academy has little interest in amplifying black art outside a few designated genre categories.
When Beyoncé's Lemonade lost out to Adele's 25 on Sunday night, some suspected vote-splitting was behind the upset. I think it was just white people being white—like they always have been.
Here is a list of the 10 black artists that have won the night's biggest honor, Album of the Year, since the show's inception in 1957:
Stevie Wonder: Innervisions (1974), Fulfillingness' First Finale (1975) Songs in the Key of Life (1977)
Michael Jackson: Thriller (1984)
Lionel Richie: Can't Slow Down (1985)
Quincy Jones: Back on the Block (1991)
Natalie Cole: Unforgettable With Love (1992)
Whitney Houston: The Bodyguard: Original Soundtrack (1994)
Lauryn Hill: The Miseducation of Lauryn Hill (1999)
Outkast: Speakerboxx/The Love Below (2004)
Ray Charles: Genius Loves Company (2005)
Herbie Hancock: River: The Joni Letters (2008)
G/O Media may get a commission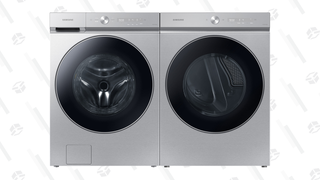 Get $500 back in credit
Last Chance: Samsung Bespoke AI Washer and Dryer Preorder
It is a shockingly paltry sum, especially since many were basically handed the award long past their prime and for works that arguably catered more to the taste of the Grammys' suspected older white male voting body. In more recent years, innovative works from the likes of Kanye West, Frank Ocean, Kendrick Lamar, and, of course, Beyoncé, have lost in this category to artists such as Daft Punk, Taylor Swift, Beck, and Mumford and Sons. It therefore was not surprising to me that in a world in which Taylor Swift has two Album of the Year Grammy Awards and Prince has none, Lemonade lost to 25, a far more palatable album (to white people, anyway).
What's even more frustrating about the Grammy Awards is that it purports to be more evolved on race than the Oscars. Last year, Neil Portnow, CEO and president of the Recording Academy, was asked about inclusion in the wake of the #OscarsSoWhite social media campaign. In his comments toVariety, Portnow projected a certain moral superiority:

The music community really is much more inclusive because of the nature of the collaborations. Also because of the nature of the proliferation of influences of one genre into another over time. It's the history of how music has evolved from the very beginning.
Portnow sounds like a member of the Democratic National Committee touting the inclusion of the party while promoting the DNC. Sure, they present splotches of color in primetime, but the reality is that even though black women keep the Grammys alive, they don't have enough of them in real positions of power. Because the organization don't value them as much as claim to. Because they celebrate diversity only in superficial terms. That's just how it's always been.
That said, something did feel slightly different last night—largely because someone white at least alluded to the blatant biases that consume Grammy voters. Adele, who basically runs the British wing of the BeyHive, used her acceptance speech time (twice!) to profess appreciation for Beyoncé and Lemonade. "I can't possibly accept this award, and I'm very humble and very grateful, but my artist of my life is Beyoncé," she explained. "This album for me, the Lemonade album, was so monumental."
Some took issue with this comment of hers: "The way you make me and my friends feel, the way you make my black friends feel is empowering. And they stand up for themselves. And I love you. I always have."
Those folks need to be quiet. Adele was acknowledging that while she values Lemonade, she knows it means more for black people. Adele is a working class white woman from the U.K. who grew up idolizing a black female singer. For her to stand before the Grammy crowd and state that she felt Beyoncé was wronged matters even on a nominal level. Most would have taken their award and kept going. She certainly said more than Macklemore, who posted a text exchange with Kendrick Lamar over a perceived Grammy snub and packaged it as taking a stand. Macklemore may have genuinely had those feelings, but he opted to express them on Instagram rather than directly in front of the people who needed to hear it.
Backstage, Adele told the press: "Like I said in my speech, my Album of the Year is Lemonade. So, a piece of me did die inside, as a Beyoncé stan—not going to lie. I was completely rooting for her, I voted for her. I felt like it was her time to win. What the fuck does she have to do to win Album of the Year?"
To answer her question: Beyoncé will likely have to wait three decades and release some standards album covering jazz and pop classics of the 1950s. Meanwhile, that same year Taylor Swift III will get her third Album of the Year for singing what sounds like tracks from Nicki Minaj's mixtape Beam Up Me Scotty.
I don't have much faith in a country that elects a racist reality star president, and not unlike those basket of deplorables, a lot of Grammy voters who likely fancy themselves as progressive people in the arts and totally not racist are the same ones who continuously vote for a very specific kind of artist. Who do these folks think they're fooling?  This furtive racism is why I anticipate La La Land to win best picture over Moonlight at the Academy Awards, regardless of how many critics have professed that the latter is a gorgeous, brilliant film.
Black people know what it's like to constantly give their all and still be told it's not good enough. A tearful, pregnant Beyoncé was reminded of that last night. Frankly, if she never bothered to show up at that show again, she would be well within her right. Perhaps Frank Ocean had it right to avoid the show altogether.
Yet simply allowing it to stay the course isn't especially helpful. If any entity claims to be for all people and based on meritocracy and is not living up to its ideals, people have to speak up. Change is slow, stubborn, and requires constant nudging. It's just as important to hold The Recording Academy accountable as to boycott it altogether.
Michael Arceneaux is a Houston-bred, Howard University educated writer who wants a show that'll allow him to recite UGK lyrics with Beyoncé. He's working on his first book, I Can't Date Jesus, for Atria Books.