Rep. Trent Franks, a member of the House Freedom Caucus, introduced an amendment to Congress' annual defense spending bill on Wednesday night that would foment anti-Muslim bigotry in the guise of counter-terrorism. On Friday morning, Franks' amendment failed narrowly, 208-217.

Franks's amendment to the National Defense Authorization Act would have directed the Secretary of Defense to conduct "two concurrent strategic assessments of the use of violent or unorthodox Islamic religious doctrine to support extremist or terrorist messaging and justification."

One of those "strategic assessments" would have been conducted internally by the Department of Defense, while the other would be conducted by "a team of non-governmental experts from academia, industry, or other entities not currently a part of the United States Government, with appropriate background and expertise to contribute to such an assessment."

The language of the amendment was vague, but it wasn't hard to guess what kind of "non-governmental experts" Franks had in mind. The study could be led by anyone from bigoted windbags like Pamela Geller, to pseudo-academic institutions like the Clarion Project, which launder Islamophobia into respectable-seeming policies.
Even among the many virulent Islamophobes in the House Republican caucus, Franks, perhaps second only to Rep. Steve King, has distinguished himself. On a panel with fellow anti-Muslim activists in 2013, Franks assented to the idea that President Obama could be a "secret Muslim"—or just acting like one.
G/O Media may get a commission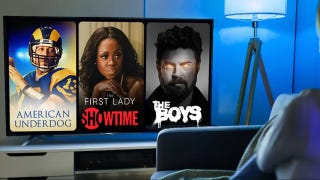 UNDER $1
99¢ Prime Video Channels
Minnesota Rep. Keith Ellison, who is Muslim, spoke out against the amendment on the House floor Thursday night:
"Nobody is saying you can't study terrorism. You can study what motivates people to commit acts of terrorism, and we should. But we don't, not equally," he said. "The fact is, this amendment singles out, stigmatizes one religious group, it's wrong and it should be voted down."
The Council on American-Islamic Relations said the amendment unfairly targets people who practice Islam, and could result in "further alienation of Muslim communities throughout the U.S."

"CAIR does not believe that the Trump Administration is capable of selecting unbiased government representatives or non-governmental experts on Islam," Robert McCaw, CAIR's director of government affairs, said in a statement. "The prospect of Trump asking one of his trusted Islamophobic advisors like Steve Bannon, Stephen Miller or Sebastian Gorka to provide such expertise or identify contributors to this assessment is frightful."

The American Civil Liberties Union also called on members of Congress to reject the measure. In addition to possibly violating religious freedoms First Amendment, there is little evidence that studying any religious doctrine would result in more effective counter-terrorism measures.
"They are essentially promoting religious stereotypes that have a chilling effect on people's ability to practice their religion," Manar Waheed, the ACLU's legislative and advocacy counsel, said. "It's ineffective and a waste of resources, while also violating our Constitution."
It's a good thing the amendment failed, but the narrow defeat is a reminder to stay vigilant. This is certainly not the last time we'll see Republicans in Congress and in the White House trying to turn their Islamophobia into legislation.