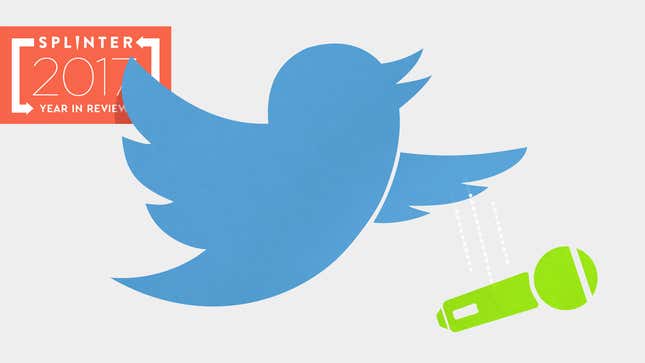 Some call them "dunks." Others speak of the humble "own." They are also known to many as righteous "trolls" (although this word is fraught with internet revisionism). However you say it, 2017—a truly awful year, certain only to be bested by every year to come—was a great year for bad people being told just how terrible they are online.

As the only appropriate good riddance to 2017, I've rounded put the best Twitter owns of the year, broken into completely arbitrary categories. Don't see your favorite own? Literally do not @ me.
THE INSTANT CLASSIC OWN
In a thoroughly crowded category (tweets owning tiny pundit Ben Shapiro), Rosie O'Donnell reigns supreme with this late entry.
THE PRESIDENTIAL OWN

Much has been made of efforts to "own" the man known as "not MY president" in 2017. But in this crowded genre, there is only one entry I will recognize as a truly"good" own. (I have made it easy for you to peruse the full back catalogue by clicking here.)
THE PEGGY NOONAN OWN
This one succinctly owns all the things I dislike the most: Wall Street Journal columnist Peggy Noonan and Aaron Sorkin's walking-and-talking drama The West Wing.
THE SPORTS OWN
This own involves Donald Trump's year-long efforts to fight with professional athletes who want nothing to do with him. (Allow my colleagues at Deadspin to explain the whole thing over here.) LeBron James' entry achieves excellence in dunking (ha ha, get it) for not even mentioning the object of his ire.
THE CONSERVATIVE DIPSHIT (SELF-)OWN

Turning Points USA is a conservative dark money organization masquerading as a grassroots movement against the scourge of socialism on our college campuses. But students on these campuses—along with the public at large—are only made aware of Turning Points' presence when they do cringe-y stunts like the one captured below, in which one liberty-loving student wore a diaper to own the libs. It's the latest iconic entry in a long internet history of right-wingers owning themselves to within an inch of their lives.
THE CHER OWN
Cher is a national treasure and I will protect her right to post at all costs.
THE ALT-RIGHT WEIRDOS OWN
It's hard to pick a dog in the feud between alleged floor-shitter Chuck Johnson and the conspiracy theorist to the misogynist right, Roger Stone. But, gun to head, I would have to choose the guy who doesn't think it's spelled "burry."
THE NEOLIBERAL OWN
Jim Messina, the former Obama aide and longtime Democratic operator, took his insanely expensive political roadshow to the other side of the pond to run the campaign strategy for British Prime Minister Theresa May's snap election earlier this year.
After attempting to dunk on Labour's using an airplane banner to campaign, Messina fell awfully quiet following Labour made stunning gains across the U.K.
THE #NEVERTRUMP OWN
There's no commentary I could provide here to add to what John Podhoretz, renowned for being brutally owned for his bad opinions online, has already gifted to us. Happy holidays.
THE ELI LAKE OWN
Technically, the one happened after Christmas 2016, mere days from eligibility for our 2017 roundup. But this is an own so perfect and so pure that I'm including it because I make the rules.