When the late, great hip-hop producer J Dilla died from health complications in 2006 at age 32, he left behind a body of work so prolific it requires its own separate Wikipedia page. During his lifetime, he managed to release 10 official albums with various projects, with two of them managing to chart—but, in the way of so many premature deaths, his influence has only expanded in the ensuing nine years.
Here's proof: an annual, much-anticipated event for devoted hip-hop heads, Dilla Day, has outgrown its original one-day footprint. The event, sponsored by Dilla's beloved mother "Ma Dukes," usually coincides with the late artist's birthday—but this year, it spans an entire weekend.
Dilla Weekend, which starts this Thursday, Feb. 5 and goes until Sunday, Feb. 8, brings together the kind of line-up that would make heads go:
There are the late-1990s, early-2000s contemporaries of Dilla (Mobb Deep, Dead Prez), and those who worked closely with him (Slum Village, Madlib). The lineup also features younger artists influenced by him, namely big-name headliner Joey Bada$$, whose album B4.Da.$$, currently sits at number one on Billboard's R&B/hip-hop album charts.
"I think Dilla was very quiet, and influenced people without people even knowing that they were being influenced by him," says Devin Horwitz, owner of the Brooklyn record label Nature Sounds. The imprint released the 2009 J Dilla posthumous album Jay Stay Paid, and also helped Ma Dukes organize this year's Dilla Weekend. "I think people really didn't start understanding the legacy of Dilla until he was gone."
G/O Media may get a commission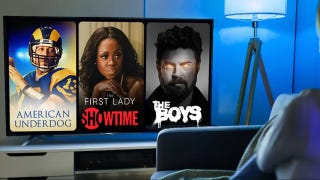 UNDER $1
99¢ Prime Video Channels
Cycles in musical styles have also contributed, of course. Dilla prized soul over slickness, bringing a crate-digger's love of loops, breaks, and warm sounds to his beatmaking. After a decade of hard, electronic-edged swagger, that sounds fresh in hip-hop again. (Again, just look to Joey Bada$$ and his commercial and radio success.)
There's another major change involved in this year's celebration of all things Dilla: It's moved from its usual spot, Dilla's hometown, Detroit, to Miami, mainly for weather reasons. "It really came down to what Ma Dukes wanted to do. In the past they've had a lot of issues where artists had to cancel because they couldn't get into Detroit, or people couldn't get to the event from out of town," says Horwitz. "This event isn't to take away from Detroit or any other city. In a perfect world, there would be major events like this in every major city when it's Dilla's birthday, or the month of February, or year-round."
Fans can be glad the warmth brings everyone together, because the spread of artists performing across the four days create an amazingly intertwined musical family tree, all leading back to the genius Dilla.
Check it out below to see how we broke it all down for you; hover over the links between artists to see how they worked together and to listen to some of their music. You can also visit jdillaweekend.com for more information about, and tickets to, the event itself.
http://www.thinglink.com/scene/619674253486194688

Family tree graphic by Omar Bustamante
Arielle Castillo is Fusion's culture editor, reporting on arts, music, culture, and subcultures from the streets on up. She's also a connoisseur of weird Florida, weightlifting, and cats.