Lists! You gotta love 'em, particularly when they rank movers and shakers within an industry. This easily produced content is useful for sucking up to rich or famous subjects and providing a peg for ritzy events where these chosen few can rub elbows, pose for photos, and gab about how they managed to end up in such hallowed company.

Today The Hollywood Reporter presents to us a particularly meta take on the genre in its eighth annual rundown of "The 35 Most Powerful People in New York Media 2018." (The 35 figure is a bit of a misnomer, as some rankings group multiple people together.)
A team effort for the magazine's New York issue, the list "salutes the men and women who, by speaking truth to power, garner plenty of their own."

Naturally, just one line break after that noble explanation, the list begins with bona fide fonts of truth-telling: the head honchos of Fox News.
Other hot takes: New York Post Publisher Jesse Angelo has supposedly "transformed the Post for the digital era"—debatable! Facebook Global Head of News Partnerships Campbell Brown deserves your sympathy for having a tough gig. And Vice Media's new CEO, Nancy Dubuc, is a fan of Pod Save America. Fascinating!
G/O Media may get a commission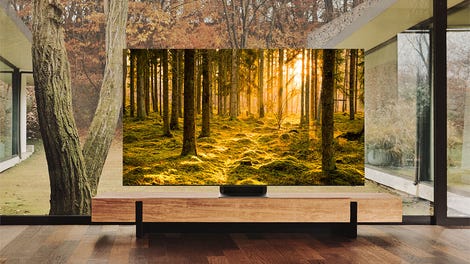 Up to 40% off
Samsung Smart TVs
Sean Hannity—remember him?—wants us all to know that he spends his nights "drinking a Coors Light with Homeland or Netflix in the background," because that is, ostensibly, what Americans do. Rachel Maddow, meanwhile, tries unsuccessfully to stop thinking about Robert Mueller's investigation before dozing off into what I imagine is a not-very deep sleep.
Despite the issue's foregrounding of the women of morning television on its cover, there are over twice as many men listed (41) as women (18).
Does anyone who doesn't appear on this list care that it exists? The answer won't surprise you. But what might is that a whopping 42 of the same names also appeared in THR's 2017 list. Behold your media elite, a mostly overpaid group of mid-to-late-career suits who exist in a sort of calcified state that acts as a shield from all the changes around them. Come back to me when THR compiles the least powerful people in media instead.