In a relatively morbid piece of news, the long-lost license plates of the limousine used by John F. Kennedy when he was shot are going up for auction in Dallas. Bidding starts at $40,000, according to The Dallas Morning News.
Dallas-based Heritage Auctions, which sells bric-a-brac as well as famous items from celebrities and history, is handling the sale.
The license plates were almost relegated to the garbage bin. The plates were the property of Jane Walker, a family heirloom she inherited from her father, Willard C. Hess. Hess was the co-founder of Cincinnati-based Hess & Eisenhardt, the company that converted the President's Lincoln into a limousine, code-named X-100 by the Secret Service, in 1961.
According to WTTW, a Dallas area ABC affiliate, following the assassination, "the license plates, stamped to expire on March 31, 1964, were almost an afterthought."
G/O Media may get a commission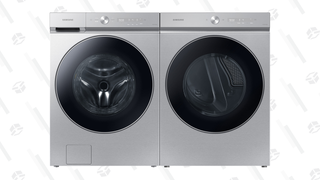 Get $500 back in credit
Last Chance: Samsung Bespoke AI Washer and Dryer Preorder
According to Heritage Auctions' consignment director Don Ackerman, Hess took the plates from the garbage where the FBI was examining the car and asked if he could keep them for himself. They said sure, and the plates have been in the Hess family ever since.
WTTW says that Hess kept the plates on a bookshelf in his study and would occasionally show them to guests at his home. He died in 2000, bequeathing them to his daughter Walker, who for years stored them in a junk drawer at her home. She also would show them off occasionally, but she "never really made a big deal out of them because [she] didn't want anyone to know [she] had them."
Walker told The Dallas Morning News that her father was upset by the fact that President Kennedy died in a car he helped produce, and so personally oversaw the car's restoration—it was cheaper to make the car bulletproof than crafting a new car. The limo was kept in use by U.S. presidents until 1977 before being retired to the Henry Ford Museum in Michigan.
Walker tells WTTW she was frequently pestered by her sons to put the plates in a safety deposit box, but just never got around to it.
"I just felt that it was time for them to get out so that other people would be able to enjoy them and know they existed," Walker explained.
"They'll be lost to history if they're not gotten rid of soon," she told the Morning News.
According to the paper, Walker decided to go through the Dallas-based Heritage Auctions after doing research and talking with attorneys, but she was too struck by the sentiment of the plates being sold in the city.
"That was weird," she says. "I'm thinking, maybe they're going home."
The auction starts Saturday morning.
David Matthews operates the Wayback Machine on Fusion.net—hop on. Got a tip? Email him: david.matthews@fusion.net