Anita Gibson has been the makeup artist behind some of our favorite movies—including Love & Basketball, Brown Sugar, Beyond The Lights, and Maid in Manhattan. With over 20 years of experience under her belt, she's managed to master the no-makeup makeup look on women of color on screen—and now she's the lead make-up artist on the Starz hit TV show Power, making La La Anthony and Naturi Naughton look glam. She says her approach to makeup on screen is: "It's a very natural, pretty, soft look… I don't want my makeup getting in the way. I'm just there to enhance the characters."
I talked to Gibson about Power, the best makeup for women of color, and her views on the skin-darkening controversy surrounding the Nina Simone movie.
How did you get into beauty? 
I stumbled in, [but] I've always been an artist. I came to New York to go to school for fashion marketing, and I came to discover very quickly that it wasn't my passion. I left being a store manager at Victoria's Secret on 57th Street to work at Estee Lauder. From there, I went to Yves Saint Laurent, and I discovered the fashion world. I started doing makeup at fashion shows, I met someone who was doing a film—Strictly Business with Halle Berry—and they asked me to work on it, and that's how it all got started.
On Power, how do you use makeup to distinguish the female characters' personalities?
[Writer/producer] Courtney [Kemp] and I met in Los Angeles, and she gave me the backdrop of the female characters. She let me know that Tasha [Naturi Naughton] was Ghost's wife and Ghost [played by Omari Hardwick] is the biggest drug dealer in New York City, he's actually so big that he's not even a dealer, he's a distributor. When I created her [look] it became instantly trophy wife; she doesn't have to work, so she can get to the gym, she can go shopping, she can buy makeup, she can get her hair done, she can get her nails done. Tasha's backdrop is a woman of privilege, and what do they look like? You have the best shoes, you have the best nails, you're always beat and looking good for your man—even when she lies down in the bed, she looks good for her man.
G/O Media may get a commission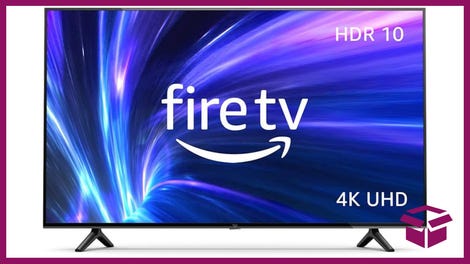 42% Off
Amazon Fire TV 50" 4K Smart TV
Angela [Lela Loren] is a more [of a] practical professional… She needs to have a basic uniform of make-up. La La, her character is Keisha, the around-the-way girl and Tasha's best friend. They have to match. She's got the lips, she's got the nails, but she's not as pulled together as Tasha because she doesn't have the same money.
There aren't a lot of women show-runners on television—and very few black women. What's it like working with another black woman on Power?
It is awesome. I am so privileged and honored to be working with Courtney. It is a big undertaking to be a show runner,  especially to be a show runner on a premium channel full of men… full of white men. I am always amazed at her being able to stick to her principles of who these people are and what this show is and always wanting to be true and honor what it is that she's trying to convey.
In fashion, models often call out make up artists for not having the right shades of brown—or note that there are not enough black makeup artists. What's it like in Hollywood?
[Some] models have the ability to voice their opinions—in Hollywood you have to be careful. If you are in a show or a movie, the makeup artist is the make-up artist [the whole time]. So, if they don't have [the makeup you need], you're going to [have to] bring it yourself, or you're just going to be stuck. It's sad to say in 2016, you still have to do that.
What are your favorite brands for women of color?
When you're broke and a woman of color, L'Oreal's Perfect Match is a great foundation line, they cover every skin tone. [I like] NYX for lipsticks, eyeshadows and eye liners. And then the next level is Bobbi Brown, NARS,  and AJ Crimson, a great black makeup artist who has now created a line for women of color. I love his foundations, I used them in Beyond the Lights on Gugu [Mbatha-Raw], I used them on Naturi [Naughton] for Power. High-end? Tom Ford is doing amazing work for women of color with pigments and eyeshadows. Makeup Forever is another good line. Anastasia Beverly Hills too. Her pigments are really rich for our brown skin, so eyeshadows come out amazing, blushes come out amazing.
It's been 10 years since Spike Lee's Girl 6 was released, and you were also the lead makeup artist for that film. The movie was about phone sex operators, so the obvious approach would be to have the makeup be very sexy. But you used brown instead of the expected red lip on many characters.  '90s makeup trends are making a comeback—what's so appealing about them?
1990s makeup had a raw look—the brown lip, the deep burgundy lip. There was something a little edgy about it that had sex appeal to me. I did Lauryn Hill for The Miseducation of Lauryn Hill and took her from The Fugees Lauryn to Lauryn Hill. We always did a brown lip or like a coffee or currant, or deep burgundy, which is so sexy you don't need anything else. The glossy look has gone away. We're going back to the matte lip, that isn't so shiny or shimmery. It's kind of reflective of the time, it's an edgier time in America. It's rough, people are standing up and protesting and speaking up. Nobody wants to be shiny and glitzy when statements are being made. You're not making a statement with a big ole' red lip on, you're making a statement with darker, chocolate lip. And there's sexiness in standing up, making a statement and not having anything distract that.
Zoe Saldana's skin complexion was darkened for her role in the upcoming Nina Simone movie. What's your perspective on changing skin tones?
I haven't seen the trailer. I'm a little afraid, because, like, huh, really, why? There are so many other dark-skinned actresses that could have played her. As a makeup artist, I shouldn't have to darken anyone's skin. Actually, I take that back. On Notorious, I did have to make [Jamal "Gravy" Woolard], who played Biggie, a couple of shades darker. But, he's a man. I would never make women darker or lighter, the skin is the skin.
What were some of your favorite things about Nina Simone's look?
Honey, she was just daring. The natural with the frosted eye and the strong mouth. She was just freaking fabulous. And you know, she was limited—that frosted eye probably came because there was nothing else there and she probably had to put a little something on to make herself stand out on stage. But look at that, look at what she created. You knew it was her, because who had a make-up artist back then? That's raw, that's just being a creator in general. Lauryn Hill was very much like that. She had things that she liked, and then it was like, let's go, let's work with this.
Power returns to Starz for season 3 this summer.
Tahirah Hairston is a style writer from Detroit who likes Susan Miller, Rihanna's friend's Instagram accounts, ramen and ugly-but cute shoes.