In his ongoing effort to remain relevant, former White House communications director Anthony Scaramucci is dipping his toes into the QAnon conspiracy pool. And it's really hard to say that with a straight face.
To be fair, The Mooch probably was just stirring up some shit by egging on a couple of "true believers" at the poorly attended, right-wing, pro-Trump American Priority Conference on Friday. He didn't realize a reporter was standing nearby listening.

According to Politico, The Mooch noticed that a married couple from Virginia was sporting some QAnon paraphernalia, which is the same type of crap that recently got a Florida sheriff's deputy demoted. Scaramucci struck up a conversation with the couple by telling them that the mystery person behind QAnon has "been dead accurate about so many things," and that, "When you find out who he is, you're not going to believe it."

That latter statement might actually be true.

Confronted about the exchange by the reporter, The Mooch made up a cover story.

Per Politico:

At "coffee with Mooch" on Friday morning, the former White House communications director, seemingly unaware of the presence of a nearby reporter, spoke glowingly of the theory as a couple from Stafford, Va., showed him their "Q" paraphernalia. (Q is the otherwise anonymous author of the QAnon theory.)

Approached immediately afterward by POLITICO, Scaramucci said his comments were not referring to Q and instead referred to an earlier conversation he had had with the couple about who would succeed John Kelly as Trump's chief of staff. Then Scaramucci said that his comments should be taken off the record and a conference organizer said the event was closed to the press.
G/O Media may get a commission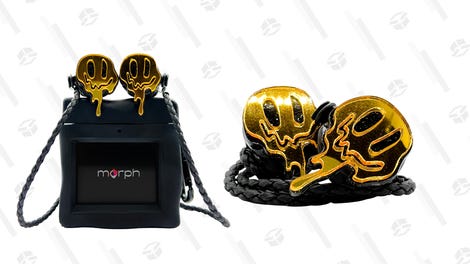 morph audio
Morph Earphones
Unfortunately for The Mooch, the couple, Kathy and Steve Miroy, weren't aware of Scaramucci's cover story, telling the reporter, "He's talking about Q."

And that about sums up the American Priority Conference, an event that's similar to CPAC, but with more MAGA Kool-Aid and fewer people.

The keynote speaker for the first edition of the event, held in Washington, DC, was Roger Stone. Another guest scheduled for Saturday is Trump "coffee boy" George Papadopoulos, who is fresh out of prison after a 12-day stint for lying to Special Counsel Robert Mueller's investigators.

He's peddling an upcoming book called, "DEEP STATE TARGET."
According to the American Priority Conference's website, the event also featured a premiere screening of "HOAXED: The Media's War on Truth," but I'm not sure if that was meant to be ironic.