What are we reading this morning? Take a look for yourself. Here's a link dump to go with that cup o' joe:

If you're a fan of comedy then this is a must read. An oral history of Kids In The Hall.
Amazingly, this didn't happen in Florida.
That loose change you left behind after going through security at the airport? Yeah, the TSA made half a million from that.
Artist attempting to make a life sized elephant using one single sheet.
You have to give him points for trying. Arizona man charged with insurance fraud after selling his car on Craigslist and then reporting it as stolen.
G/O Media may get a commission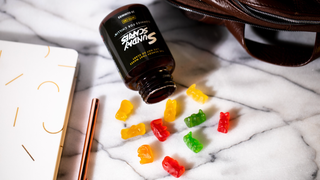 10mg CBD Gummies (22-Count)
This is a fantastic story because of how random it is: How the sneeze guard changed buffets forever.
Even more spying news, this time about traveler phone location data, is being pegged to the NSA.
Detroit's gun problem is only being made worse by guns being stolen out of cars.
Monkeys have rights too, or at least that's the hope.
Fidel Martinez is an editor at Fusion.net. He's also a Texas native and a lifelong El Tri fan.