The shuttering of Yemeni-owned bodegas across New York's five boroughs, according to some accounts, started as an idea thrown around at Sunday dinner. Four days later, thousands of corner stores had closed, their owners and families defecting to join a rally at Brooklyn's Borough Hall. Crowds spilled down the building's stately steps and across its concrete plaza. A number of them waved tiny American flags—hawked, in New York tradition, by enterprising vendors—and chanted "U-S-A!" American pride feels like a lot to muster these days, but this rally was the most patriotic I'd ever seen.
"I have a message for Donald Trump," yelled New York City Comptroller Scott Stringer from the podium. Behind him, on the steps, members of the crowd held illuminated signs reading STRIKE.  "You as a president have an obligation to support the Constitution of the United States."
"When you disregard the Constitution," he said, "It's time to get impeached."
Fatima, a 17-year-old from Queens in a lavender headscarf, raised her fist along with the dozen teenaged girls she stood with next to the stage. She'd come to the rally with her aunt, her brothers, and her parents, most of whom had protested against Trump's travel ban at another New York City square the day before.
Fatima came to the States when she was six months old, "so maybe I don't even count" as an immigrant, she said, laughing. But her father closed his Bronx bodega in protest today, and she even stayed home from school, though she says she's never absent. "I'm here to to represent all Muslim women," she said, "and to let Donald Trump know that this is New York…that he needs to have a proper conversation with us, that banning us is not the solution."
G/O Media may get a commission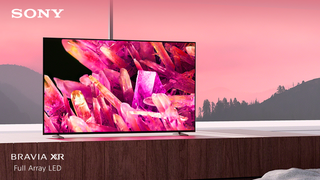 $400 off
Sony 55 Inch 4K Ultra HD TV X90K Series
From noon to 8 PM, in a city where nearly half of all small businesses are owned and operated by immigrants, Yemeni bodega and grocery owners like Fatima's father had shuttered their stores in protest of the Trump administration's travel ban. Many posted signs with pictures of the Statue of Liberty and the location of the rally.
Many I met said their customers were entirely behind them—one man, Abdul Alghaithi, told me he even saw some of them at the protest that day. At the rally with a number of friends from across New York's five boroughs, he told me they'd all come out to show the world they weren't "doing something bad." Looking back in the direction of the crowd, he said we can't pick sides: "We all have to feel like brothers, all of us together.

If the most basic goal of taking to the streets is, as many chant, to "shut it down," driving a wedge between New Yorkers and one of their most ubiquitous amenities is an effective way to do it. Though the number of corner stores has steadily dwindled as Manhattan rents have risen and chain stores took their place, there are tens of thousands of licensed bodegas operating in the city at large. And in a metropolis of cramped apartments and tightly policed public space, they are the bookends of many New Yorkers' day—not to mention a key component of the multicultural, mixed-use urban culture that was so successfully marketed by the Bloomberg administration when it completely remade the city.
Corner stores are where city-dwellers have packages delivered and leave their keys for their friends. They're what make both late-night beer runs and on-the-go egg sandwiches possible. In a lot of neighborhoods, they straddle the line between business and neighbor, letting locals run up weekly tabs. To give just one example: Earlier this week, when this particular New York City resident had a plumbing problem, the guy behind the counter at her favored corner store offered to let her borrow his plunger.
Bodegas are also tidy symbols of some of New York's favorite ideas about itself, and like a lot of those ideas, this one has been borrowed and mutated. Corner stores are necessary to fuel the city's 24-hour culture and a great equalizing force, insofar that people from across the economic spectrum both need to grab loose cigarettes and order sandwiches. When people complain that local business is leaving the city, these types of family-owned grocery-slash-lunch counters are usually what they're talking about.
And like many of the institutions we take for granted, the bodega-as-community hangout isn't native to New York at all. Its current iteration was brought here along with the Latinx communities who were accustomed to seeing them, in places like Puerto Rico or the Dominican Republic. In 2017's New York, we have bodegas that sell tiny vegan organic sandwiches and cold brew on tap. And yet the majority of them are still staffed by immigrants.
In 2011, a study based on New York City census found that while immigrants constituted only a third of the city's population—a surely undercounted number—they made up 46% of small business owners and workers. More recently, the Fiscal Policy Institute and the city's own analysis have shown that immigrant business, by and large, was responsible for bringing New York City's economy out of its 1970s slump—and continues to play a central role in its economy. As shown effectively in the Tax Alliance's biting condemnation of the travel ban, immigrants aren't just crucial for the city's diversity or sense of inclusive liberalism. Their labor is the scaffolding upon which most of its business infrastructure is built.
When New York was rezoned and marketed to attract the new urban-dwelling creative class with more money than time, it was done so using a combination of urban planning theories that favored microcosmic, pedestrian-friendly neighborhoods and small local businesses. Immigrants from Yemen and Iran and elsewhere continue to make all of this possible, just as Americans who were born in other countries staff 90% of laundromats and car services.
Elsewhere, perhaps immigrant labor like this is more abstract, or at least invisible. But at the rally, I spoke to a Park Slope mom holding a painting of a bodega that read, "I support the American dream." And one activist onstage spoke of her uncle phoning after the ban to tell her America wasn't what he'd told her it was. 
"I mean, Donald Trump, we didn't even do anything to him," said Ali Alkushtary, a sharp-looking 15-year-old in the 10th grade in the Bronx. His family had also closed their bodega for the strike. His brother, cousin, and uncle stood on a park bench behind us, hooting and waving their tiny American flags, while Alkushtary and a buddy from school stood on the sidelines. He'd told his family about the strike and rally after hearing about it on Facebook. "We're not even supposed to be involved in all this," he said. "It's disgraceful."