Gay and bisexual men will once more be able to donate blood in the Netherlands, Pink News reports. But there is a catch: The revised policy requires that men must not have had sex with any male partners for at least a year prior to donating.
"I am a staunch supporter of emancipation and equality of people, and at the same time responsible for the safe blood supply in the Netherlands," the Dutch Minister of Health, Welfare, and Sport Edith Schippers said in a statement this week upon implementing the new regulations.
Despite the fact that this new policy will allow sexually active men who have sex with men to donate blood for the first time since before the AIDS epidemic, some say the regulations are still "discriminatory."
"The new policy will remain unnecessarily discriminatory," Dutch LGBT advocacy group COC Nederland said, per British mag Pride Life. "This proposal provides too little, too late. The policy is only of practical importance for bisexual men in long-term monogamous relationships with a woman."
The United States recently made plans to enact a similar policy change. In May, the Food and Drug Administration announced that it plans to lift the lifetime ban preventing gay and bisexual men from donating blood. Like the Netherlands' new regulations, these men will only be able to donate if they have been celibate for 12 months.
G/O Media may get a commission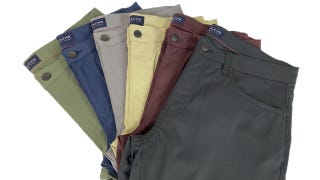 JACHS NY Fall Stretch Tech Pants
Bad at filling out bios seeks same.