The New York Stock Exchange (NYSE) is apparently broken as of 11:32 a.m. EST, apparently due to a technical issue:
We don't know much more than that at this point, except that the NYSE is not supposed to be broken. This is not like, a routine stop of global markets, if that's what you thought.
But, that doesn't mean there's any reason to panic, says Fusion's Felix Salmon:

"Not a single stock stopped trading today, and the market as a whole didn't move at all in reaction to the outage. (Which, officially, was not the result of any kind of hacking, it was an internal technical issue.)"
G/O Media may get a commission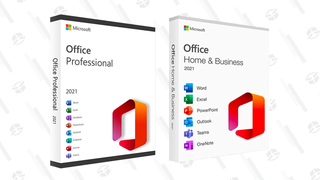 89% off
Microsoft Office Professional 2021 Lifetime License
All trading on the New York Stock Exchange is halted Wednesday for unknown reasons. Trading still going on the Nasdaq. Technical issues are blamed for the systems on the NYSE to shut down at 11:32 a.m. ET. Such outages are extremely rare in U.S. markets.Traders on the NYSE floor were standing around looking at blank trading terminals where no bid or offers were being exchanged.
USA Today also noted that the NYSE blamed a "technical issue" for the halt in a statement, saying: "We're currently experiencing a technical issue that we're working to resolve as quickly as possible."
The news is making people especially nervous because lots of things have been going virtually wrong today. The Wall Street Journal's website is also down:
And United Airlines grounded flights nationally this morning over a computer glitch. Flights resumed after more than an hour.
But some are saying that there's no reason to think the two are connected:
Plus, the NASDAQ is still up and running, so trading has not stopped altogether.
Forbes noted back in 2012 that several events could halt the stock exchange, like a hurricane or a world war. Squirrels have also been known to shut down the NASDAQ.
This is a developing story.
Danielle Wiener-Bronner is a news reporter.