Serbian Novak Djokovic has been the No. 1 tennis player in the world since 2012. His combination of power and endurance has allowed him to win 11 Grand Slam tournaments, 5th-most all-time.
But, he's also been known for questionable behavior; he once took off shirt in the middle of a match and started gyrating.
Now, in comments reported by the Australia Broadcasting Company, Djokovic, 28, said the men deserved more prize money than women.
"Stats are showing that we have much more spectators on the men's tennis matches," Djokovic said.
He added that he had "tremendous respect" for women in tennis, especially as they had to "go through a lot of different things that we (men) don't have to go through. You know, the hormones and different stuff."

G/O Media may get a commission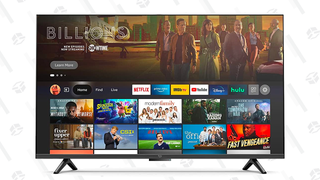 22% off
Amazon Fire TV - 50" Omni Series 4K - Early Access Deal
Djokovic was responding to comments made by Raymond Moore, the director of the Indian Wells tennis tournament in California, who Sunday told the media that female tennis players were "lucky" and owed their status to stars of the men's game, the New York Times reported.
"In my next life when I come back I want to be someone in the WTA, because they ride on the coattails of the men," Moore said. "They don't make any decisions and they are lucky. They are very, very lucky. If I was a lady player, I'd go down every night on my knees and thank God that Roger Federer and Rafa Nadal were born, because they have carried this sport. They really have."
The issue of earnings in tennis has drawn increasing scrutiny in recent years, especially as match fixing accusations in the women's game are continually thrown around. The Wall Street Journal noted in 2009 that, "Many [Women's Tennis Association] Tour players are teenagers who don't earn enough to pay for proper training or a professional coach."
In addition, many have questioned why the No. 1 women's tennis player, Serena Williams, who many believe to be the greatest women's player of all time, took home just 83% of what Maria Sharapova, took in last year, according to Forbes. Sharapova is currently ranked just 11th in the world.
Williams has demurred in responding to this discrepancy, saying Sharapova "deserved" what she got. However, she did dismiss Moore's new remarks.
"Obviously, I don't think any woman should be down on their knees thanking anybody like that," she said according to ESPN. "I think Venus [Williams], myself, a number of players have been — if I could tell you every day how many people say they don't watch tennis unless they're watching myself or my sister, I couldn't even bring up that number. So I don't think that is a very accurate statement."
Rob covers business, economics and the environment for Fusion. He previously worked at Business Insider. He grew up in Chicago.