The midterms were a month and a half ago, but the fight's not over in North Carolina, where Republican House candidate Mark Harris' Ninth District election campaign is under investigation over allegations that an aide kept absentee ballots from being returned. Harris beat his opponent, Democrat Dan McCready, by 905 votes.

Now, the Washington Post reports that the staffer in question, Leslie McCrae Dowless, was hired by Harris even after he had been warned that Dowless had a history of sketchy and even illegal actions.
Dowless was also involved in the 2016 North Carolina election, in which he helped Todd Johnson win the Republican primary. Harris ran in that primary as well, and lost. That's when advisors allegedly told Harris that fraud may have aided his opponent Johnson's victory.
From the Post:
The incumbent congressman and winner of the primary had received just one mail-in vote in rural Bladen County. Harris, who came in second place, had won four. Johnson, the last-place contender, meanwhile, had received nearly all of them — 221.

The only explanation, advisers told Harris that night in Charlotte, was that something shady had occurred on that third-place campaign, according to the people.

A year later, they said, when Harris resolved to run for Congress again, the candidate personally directed the hiring of Dowless, an adept field operative and Bladen County native who had helped deliver that unusual result in 2016.
G/O Media may get a commission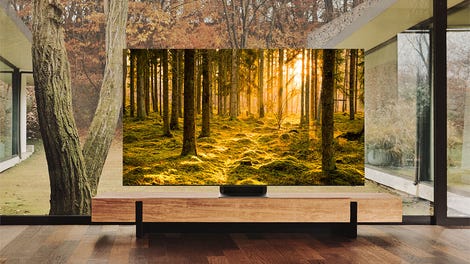 Up to 40% off
Samsung Smart TVs
Harris previously denied he had any knowledge of impropriety on the part of Dowless.
"I was absolutely unaware of any wrongdoing," the candidate said in a video released December 7.
Now, Harris' wife says she doesn't remember the conversation described to the Post.
"We actually don't recall any 'aide' saying anything on election night," Beth Harris told the Post. "It was a crazy night where we were up and then went down."
The consulting firm Red Dome, who paid Dowless for the campaign, is also under investigation. But Harris had reportedly already decided to hire Dowless before contracting with the firm.
Walter McDuffie, the chairman of the Bladen County Republican Party, is one person who says he warned Harris about Dowless. McDuffie apparently told Harris about Dowless' "criminal record, which includes felony convictions for fraud and perjury and a misdemeanor charge for passing a worthless check in the late 1980s and early 1990s," according to the Post.
After the 2016 election, Dowless admitted in testimony to the Bladen County Elections Board that he allowed staffers to collect absentee ballots from voters, which is against the law in North Carolina. The board referred the testimony to state and federal investigators, but no disciplinary action was taken against him. He's alleged to have used this same practice in 2018.
There's more: in 2016, Dowless told the board that he'd been in contact with Bladen County Elections Director Cynthia Shaw. He said that Shaw knew his staffers were putting their initials in the corner of ballots they returned "so if there is a problem you know who to contact," Dowless said.
This is also blatantly against the law—if there's a problem with a ballot, elections officials are supposed to reach out directly to the voter, not to any third party. Shaw resigned from her role in November, several months before her scheduled January 1st retirement.
In one last bizarre twist, it seems that the Bladen County board tabulated the early vote three days before Election Day, going against state regulations. Investigators are looking into whether that result might have been shared with a candidate.
Last week, McCready withdrew his earlier concession and called for another election. On Wednesday, the North Carolina state legislature passed a bill that would allow a new primary if an election did happen, which would allow the GOP to replace Harris