The New York Police Department on Thursday released body camera footage of a fatal police shooting which occurred on September 6, marking the first time the NYPD has done so since it began requiring officers to wear cameras earlier this year. Naturally, a major police union is infuriated.

Over the course of 15 minutes of footage, police officers are seen telling Miguel Richards, a 31-year old college student with a reported history of mental illness, to let go of both a knife and what was later determined to be a toy firearm as he stood in the corner of his Bronx apartment. Officers had initially been called to the scene to perform a wellness check on Richards at the request of his landlord. After repeated warnings, officers opened fire on Richards after they claimed he raised the hand holding the toy gun. He was shot 16 times.
Warning, this footage is graphic and disturbing:
Following the shooting, Richards' father Belvett told reporters, "He was murdered, cold-bloodedly. He didn't deserve to die this way."
While some civil rights groups have hailed the new level of transparency (despite disagreeing on the content of the video itself), the New York Patrolmen's Benevolent Association—one of the city's major police unions—is furious that the public can now judge for themselves why officers felt the need to shoot a mentally ill man in his home.
On Thursday, PBA president Patrick J. Lynch put out the following statement:
The release of this footage sets a dangerous precedent that jeopardizes police officers' due process rights and confidentiality protections under state law. The district attorney's investigation into the case is still ongoing — it should be allowed to proceed free of pressure and interference, looking at all of the relevant facts alongside the video footage. Moreover, this footage constitutes a confidential personnel record that is protected under New York State Civil Rights Law Section 50-a, and releasing it in violation of the law will expose the police officers involved to a very real and substantial risk of harassment, reprisals and threats to their safety and the safety of their families. If fairness and justice are the goal, they won't be achieved by suspending police officers' rights whenever it is convenient to do so.
G/O Media may get a commission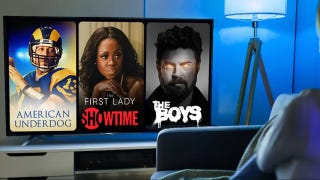 UNDER $1
99¢ Prime Video Channels
Lynch had previously criticized the use of body cameras in general, saying they presented "serious concerns for the rights and safety of both police officers and the public."
Bronx District Attorney Darcel Clark, who wanted to close an investigation into Richards' death before any body camera footage was released, also criticized the move.
In a message to NYPD officers, police commissioner James O'Neill reportedly praised the officers involved in the shooting and insisted that the decision to release the footage was made as part of an effort to build trust within the community.
O'Neill also stressed that the release of this particular piece of footage did not represent a change in official NYPD policy, saying, "We are reviewing each incident on a case-by-case basis."
Nevertheless, given NYPD's national prominence, police reform expert Chuck Wexler said he sees the decision to release the footage as a major turning point in the ongoing movement for more police transparency.
"Something very significant happened today that will impact the NYPD for some time," Wexler told the New York Times. "And that is the public's right to know supersedes age-old resistance that argued against this transparency. Police departments across the country will take note, and this will have a major impact on their thinking."
For more from Splinter, please follow us on Facebook.