New York City is likely to appoint an independent monitor to oversee the NYPD's antiterrorism proceedings and make sure that officers never again spy on Muslims, expanding checks on the unit for the first time since 9/11.
The New York Times explains that the decision was made as part of a settlement in two lawsuits connected to the surveillance, which argue that the city violated civilian rights with the controversial program. If the settlement is approved by the judge, the Times points out, it will represent "the most significant recalibration of the rules governing police intelligence-gathering in the city since Sept. 11, 2001." The Times continues:

Before Sept. 11, the city had a three-member panel, which included a civilian, to review intelligence-gathering and approve or reject investigations by the Police Department. That oversight was eliminated after the attacks, leaving the city's intelligence operations all but unchecked by anyone outside the Police Department… The monitor, called a "civilian representative," will be appointed for a five-year term, which is intended to insulate the position from city politics. After five years, the mayor has the authority to eliminate the position, but only with advance public notice.
According to police officials, the settlement serves to make official a number of changes that have already been made within the NYPD. And though it doesn't include any recognition of wrongdoing on the part of police, civil rights activists seem pleased with the decision. The Wall Street Journal explains additional terms:

Other changes to the surveillance rules… include placing a reasonable time limit on investigations and expressly stating an existing NYPD policy that it is illegal to profile anyone solely on the basis of religious activity. The agreement also requires the NYPD to remove a controversial report on radicalization that has been on its website since 2007.
G/O Media may get a commission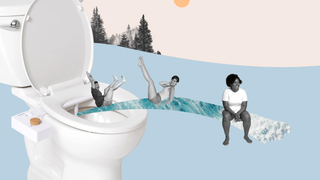 17% off
Tushy 3.0 Warm Water Spa Bidet Attachment
Arthur Eisenberg, who serves as legal director for the NYCLU, said, "this settlement is a win for all New Yorkers," adding, "It will curtail practices that wrongly stigmatize individuals simply on the basis of their religion, race or ethnicity."
And the ACLU's Hina Shamsi (who represents plaintiffs in one of the lawsuits) told the Times that "these safeguards will be a strong check against the discriminatory surveillance of Muslim communities that we challenged in our lawsuit," adding, "We hope the settlement shows that effective policing isn't at odds with constitutional policing."
Despite claims by the likes of Republican frontrunner Donald Trump that the Muslim surveillance program should be reinstated, there's no evidence that it did anything to bolster the city's security. NYPD Commissioner William Bratton said recently that "not one single piece of actionable intelligence ever came out of that unit in its years of existence." Good riddance.
Danielle Wiener-Bronner is a news reporter.